Everybody knows massages are good for you – but do you know just how much? Massage therapy isn't only good for relaxing tense muscles and soothing back pain, but it's also beneficial for mental health. In this day and age, where people are increasingly being stressed and spend most of their days sitting and working, regular massage sessions have never been more called for.
However, not everyone has the time and resources to get regular massages from certified massage therapists. Booking an appointment and going to the salon can just add stress to your day, instead of making you feel relaxed. If you're finding yourself nodding while reading this – massage chairs might just be the right solution for you.
Massage chairs are a great way to relax. Aside from the proven physical benefits which help with soothing back pain, improving circulation and relaxing tense muscles, the often overlooked the benefit of it is the mental aspect.
Just imagine taking a seat in a cozy, comfortable massage chair with a relaxing tune playing in the background. Take a deep breath and get ready to receive a world-class massage. In the comfort of your own home! I don't know about you, but just picturing this in my head makes me feel more relaxed and calm. And that's the whole point, isn't it?
As massages are one of the top ways to de-stress (even with just massage chairs), release muscle tension and instantly improve quality of life, we had to review the best massage chairs on the market right now. After all, complete relaxation at home is impossible without a way to work on your muscles.
Best Massage Chairs – shortlist
---
How We Reviewed the Top Massage Chairs and What to Expect from this Guide
We take a look at all the reviews online and filter for legit reviews. From there, we selected the best chairs for specific purpose, be it the best Zero Gravity massage chair, or the best budget option.
How to Read this Buying Guide
This guide has been created to help you choose the right massage chair for your needs. We put an accent on pros and cons, current customers review, key features and quick overview of programs for all the best massage chairs in the market.
Instead of relying on our subjective opinions, we went through hundreds of websites, discussion boards and social networks to find the most accurate information on all the massage chairs we reviewed. All 10 of the best massage chairs in 2021 reviewed are chosen for a reason, based on customers reviews, features, build quality or simply for being the best massage chair for the money.
1. Kahuna SM-7300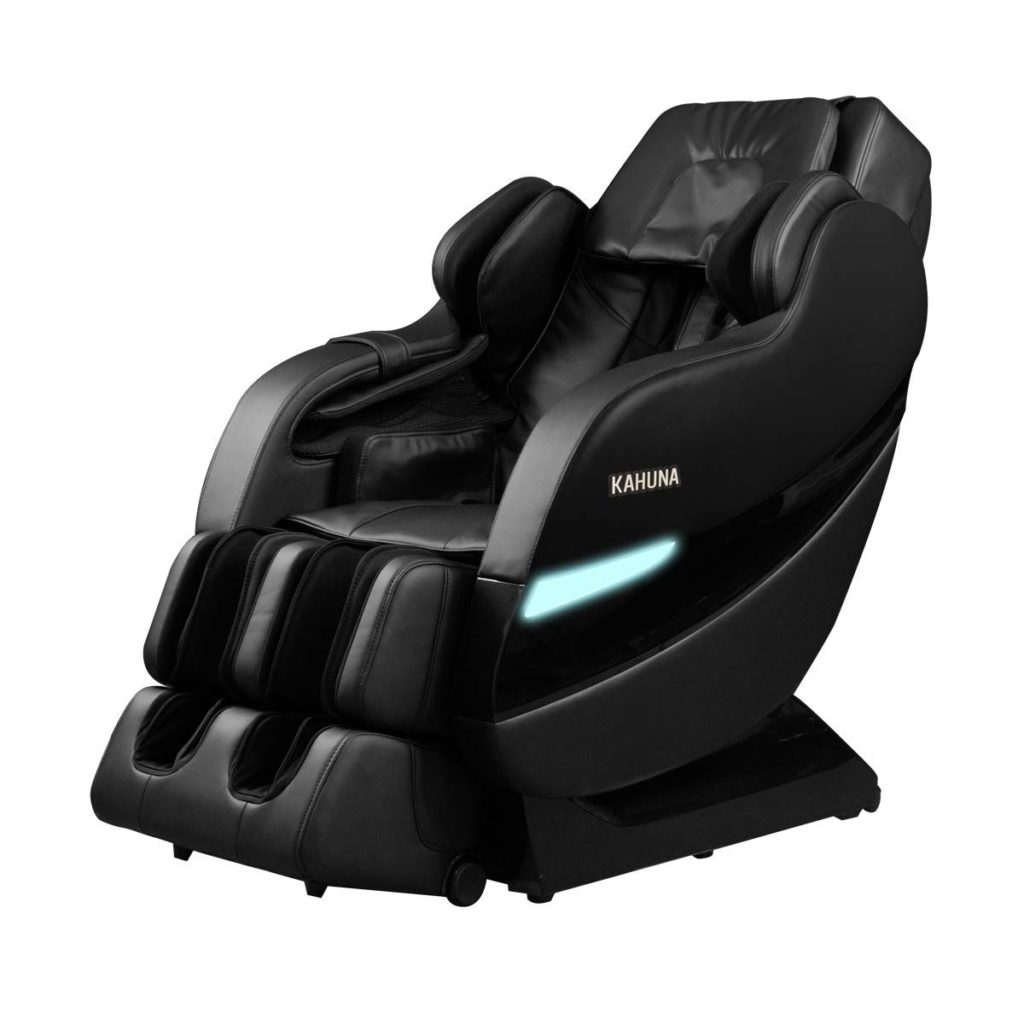 Who it is for?
Kahuna SM-7300 Massage Chair is especially suitable for tall people, up to 6'5" in height due to an extra 12″ of leg extension. It's rare to see a massage chair catering to tall people needs, especially in this price range. If you're looking to get a high-quality chair without breaking the bank and get the best value for your money, Kahuna SM-7300 Massage Chair could be a fantastic choice. Read on to find out why.
Pros and Cons of Kahuna SM-7300 Massage Chair.
Pros 

Cons

Best bang for your buck

Zero-gravity technology to make you feel as light as you were in space

Heating therapy 

Fits tall and large users (up to 6.5ft and 320 lb.)

Lack of precise temperature control

Foot massage might be too strong for some
All you need to know
If you are tall and/or of large stature, it can be quite frustrating trying to find a chair that's big and comfortable enough to use. Moreover, tall people tend to experience more issue with their muscle and tendons due to increased pressure as a result of their height. Kahuna SM7300 was specifically designed with all this in mind and provides a fantastic value for anyone up to 6″5 and 320lbs.
The chair features 5 pre-defined programs that should be able to accommodate everyone's needs:
Relaxation – With a focus on deep, trigger point-type massage
Pain Relief – Multi-technique massage designed to relieve muscle pain
Recovery – Designed to improve blood flow, this pre-define program offers firm full-body massage with rolling and tapping techniques
Yoga Stretching – While keeping you in place, the chair provides body-stretch to help loosen muscles and help improve flexibility
Dynamic Sport – A whole-body massage for fresh start of a day
In addition, the chair offers 4 special programs:
Athlete – Helps to recover sore muscles
Office Person – With a focus on the most tense muscles for an office worker – neck and shoulders
Golfer – Targeted on legs and lower back
Senior Mode – Gentle, general full-body massage

Key features
Hybrid L/S Track Design
Six-Roller System
​Space-Saving Design
Zero Gravity Seating
​3D Body Scanning
Despite being on a lower-end in terms of price, Kahuna SM-7300 is very competitive and can even be compared to some higher-ends massage chair in terms of function and usability. This is especially true for tall users as the chair was designed to cater to them specifically. Overall, Kahuna SM-7300 is a fantastic chair with great bang for your buck that will provide everything you want from a massage chair.
---
2. RELAXONCHAIR [MK-II PLUS] Full Body Zero Gravity Shiatsu Massage Chair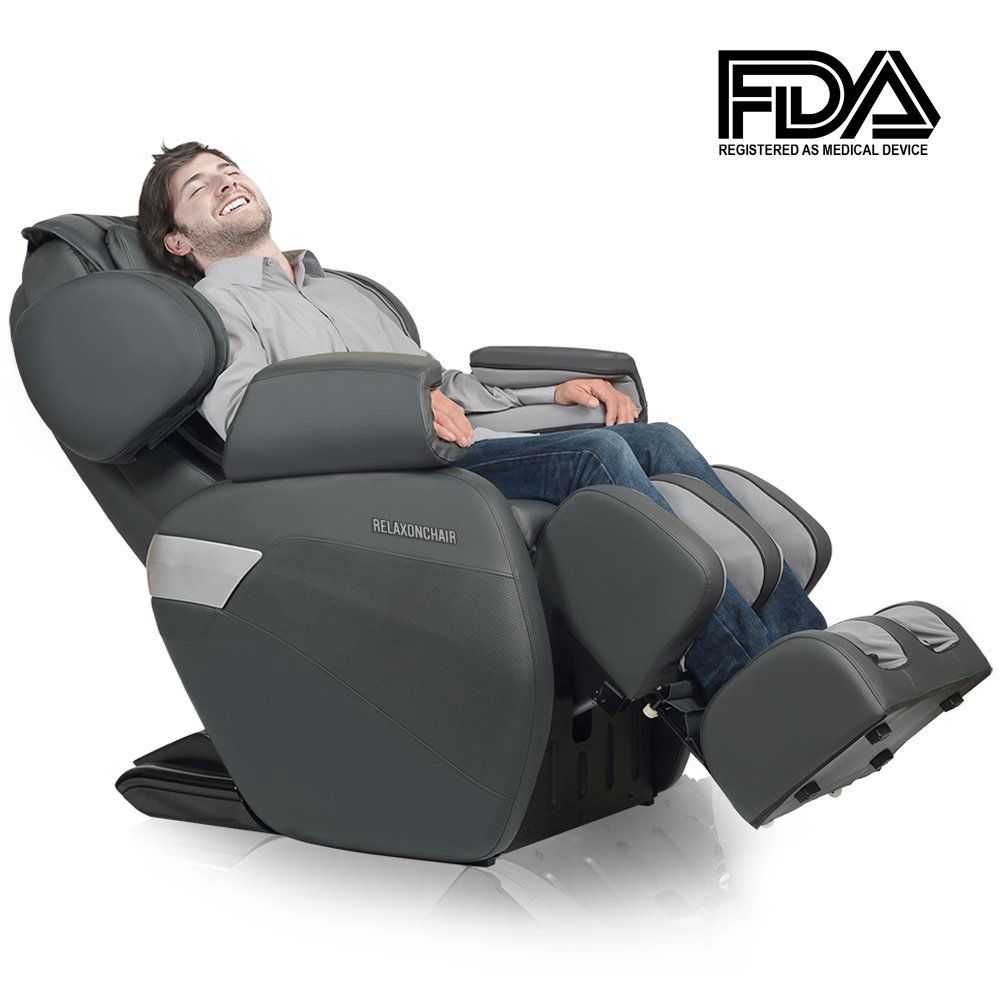 Who it is for?
For those looking to get an entry-level chair that's comparable to massage chairs coming from popular brands, but for a fraction of the price. It's perfect for users looking for a strong deep tissue massage, which is something a lot of massage chairs seem to lack.
Pros and Cons of RELAXONCHAIR [MK-II PLUS]
Pros

Cons

Hybrid track design that provides nearly full body massage.
Very strong deep tissue massage.
Remote control with 5 different, targeted massage types to choose from.
Twenty first generation airbags to help compress different parts of the body.
Lower back heating option.
Body stretch to help with compressed spine discs.
Very affordable for what it offers in comparison to competition.

While it appears to offer many different modes, the Relaxonchair MK-II Plus Massage Chair actually has only three massage techniques to choose from along with 4 pre-programmed features.
Body stretch function may not be as strong as needed for some.
On the contrary, the roller for foot massage is too strong for some users.
As an off-brand, customer support may not be on pair with some of the most popular brands.

All you need to know
Relaxonchair MK-II Plus Massage Chair is an e-commerce brand chair that provides a great value for money along with many functions which are usually not available in massage chairs in this price range. Operating exclusively online allows Relaxonchair to offer competitive price, which could come at a cost of weaker customer support if the chair breaks down for any reason.
Key features
Hybrid track design
Zero-Gravity feature
Deep Tissue massage
3D Body Scan
Three main massage techniques
Four in-built programs
There are several types of track designs, which are basically like train tracks for rollers that follow a path down your back and provide most of massage. The S-track, which usually goes only down to the lower back area and L-track that extends down the buttocks and hamstring area. The Relaxonchair MK-II Plus Massage Chair has Hybrid-track design which combine these two track design into a superior one that goes all the way from your neck to hamstrings.
What we rarely see in affordable models (and even in some high-end massage chairs) is the zero-gravity seating. It does sound a bit like a marketing term, but zero-gravity seating is actually quite useful as it puts the user in a position that elevates the knees above the heart and thus uses your own bodyweight to apply the right amount of pressure to rollers in the back. There are three seating position available and this fact alone sets the Relaxonchair MK-II Plus Massage Chair apart from competition.
Speaking of pressure and rare options, if you are a fan of strong deep tissue massage, this chair is just the right one for you. While it may be too strong for some, those looking to really work on those stone-hard back knots will enjoy the deep tissue feature immensely.
3D body scan is yet another function that compares very well with competition. Its role is to scan your body to find spots which need special attention and make adjustments to the rollers position and in-built programs accordingly.

Lastly, the chair has four in built programs:
Deep tissue
Relaxation
Rejuvenate
Stretch
Aside from these massage routines, you can choose three type of techniques: Kneading, tapping and combination of two.
---
3. Electric Zero-Gravity Full body Shiatsu Real Relax Massage Chair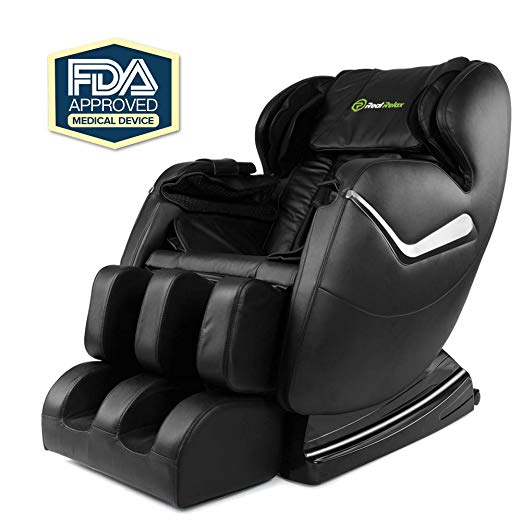 Who it is for?
Electric Zero-Gravity Full body Shiatsu Real Relax Massage Chair is a very affordable massage chair that's best suited for casual users who want a massage chair that offers a lot for the price, but still cannot be compared to 4-5x more expensive models as it lacks some of the functions every massage chair should have.
Pros 

Cons

Remote control included
Very affordable for a massage chair with these set of features
3 years warranty that can be extended for 3 more years
Plenty of positive reviews

Leg massage may be too strong for some
Massage rollers do not move up or down, but go round in place
Assembly instructions not as clear as they could be

All you need to know
Real Relax Massage Chair is quite different from other chairs we reviewed for the simple fact that it doesn't have regular tracks for back massage as other chairs do. We usually see S or L tracks (or combination of two), but this massage chair from Real Relax doesn't have any of that! This is a very important distinction to make right off the bat.
You see, with a moving massage rollers that go all the way from your neck to your buttocks, you can expect them to hit every pressure point you need it to, which is usually different for everyone depending on their height, weight and finally, the exact position of "knots" in the back. Unfortunately, Electric Zero-Gravity Full body Shiatsu Real Relax Massage Chair doesn't have any of that. Instead, it's equipped with massage rollers that are fixed in place which is not going to be ideal for everyone. This is clearly a trade-off between for its price. This ultimately means that you would need to keep moving to try to hit problematic spots in your back if the chair doesn't fits you perfectly.
Key features
4 different massage programs
Zero gravity
8 massage points
50 air bags
Foot roller
Waist heater
Extendable ottoman

Even though there are 4 different massage programs advertised, they are very similar to one another due implementation of stationary massage rollers instead of S or L tracks. The only difference between those programs is in speed and intensity, as all you really get is one type of massage – Shiatsu.
Zero-gravity is a surprisingly cool option to have in a budget massage chair such as this one, along with a powerful air massage with 50 airbags. Foot and calf massage is also better than you would expect in this price range, although some customers did complain about it being too strong. Extendable ottoman will lengthen the chair to cater for people up to 6'3 in height which is another welcomed addition in an off-brand budget massage chair such as this one.
---
4. Kahuna Massage Chair LM6800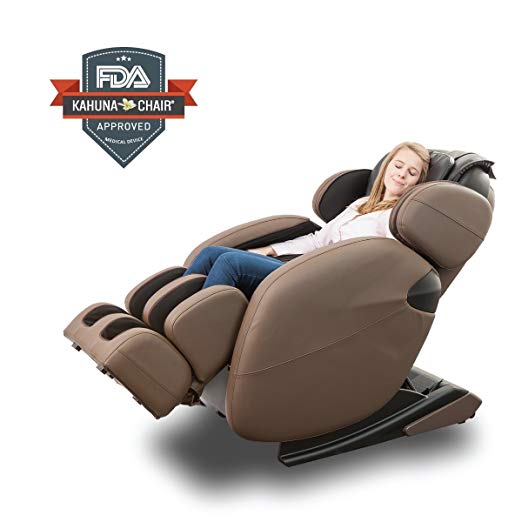 Who it is for?
Kahuna Massage Chair LM6800 is best suited for users who are looking for an entry-level massage chair with stretch function to decompress spine discs, hybrid L track design for full body massage and extendable ottoman which helps accommodate users up to 6'4 in height.
Pros 

Cons

Multiple zero-gravity positions
Space saving technology
Heat for lower back and legs
Extendable ottoman allowing comfortable massage for users up to 6'4
Dual foot rollers
Our top choice

It only comes in one color, brown
Foot rollers could be too strong for some (wearing double pair of socks can help)
A bit noisy
Key Features
Zero-gravity setting
Hybrid track design
3D Body Scanning
36 First Generation airbags for full body air massage
Yoga stretch

With hybrid L-track design, Kahuna LM6800 is competing with more popular brands – and it does it very well. Zero-gravity setting ensures the most comfortable position for massage and 3D Body Scanning function is there to figure out exactly where your tender spots are put some extra work on those. Even though it's equipped with older, 36 first generation airbags (that go around shoulders, arm and hands, hip and finally calf and feet), Kahuna LM6800 does a very good job. Users have reported that shoulder massage with these airbags is of a much higher quality than competitors, so keep that in mind while deciding whether or not this chair is the right choice for you.
Yoga stretch feature is the most praised one. It lasts for 30 minutes and provides quite a strong stretch, while massaging your body at the same time. This is achieved with numerous airbags that hold your body in place while the chair moves up and down to get you that much needed stretch.
All you need to know
Kahuna Massage Chair LM6800 is one of the best bang-for-your-back chairs we've had a chance to review as it offers so much for its price and it's our top choice for entry-level users. One of its more prominent features is the two setting zero-gravity seating which allows for legs to be in the line or slightly higher than your heart while providing a feeling of weightlessness at the same time.
Due to its space saving design, you won't need more than 4-5 inches of clearing behind the chair to put it in a fully reclined position. It comes with 6 predetermined massage programs:
Deep Tissue
Relax
Yoga
SV-Chiro
Rejuvinate
Stretching

Kahuna Massage Chair LM6800 is certainly not the best massage chair out there, but it does offer an immense value for money and would be our top choice for massage enthusiasts looking to get their first massage chair.
---
5. Kahuna Massage Chair LM-7000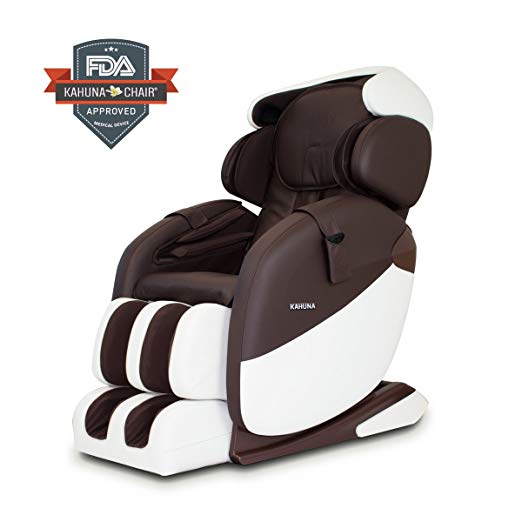 Who Is It For?
This is a very comfortable massage chair that will accommodate people of all sizes. People up to 6 feet 6 inches tall should have no difficulty using this chair. The LM-7000 offers a range of massage features where you can target specific areas of your body such as your upper and lower back, your entire body or just your lower body.
People that enjoy a good a stretch will love this massage chair. There is a special yoga stretching program which will stretch all of your body, which should improve your blood circulation as well. In addition, there is also a special program which targets your spine that aims to work on releasing muscles around spine and untrap nerves. This is a lot of massage chair for a reasonable price.
Pros 

Cons

Once a massage style is selected the speed of the massage is adjustable
The massage strength is adjustable
Massage using air pressure is a pleasant experience
Flexible L Track system
Massage chair is FDA registered
Great value for money

The foot massage is a bit strong
Arm slots could be larger

All you need to know
This is a fully featured massage chair which has an L Track roller design consisting of four different roller wheels. This is generally a gold standard for massage chairs as it means that you can massage your entire body from the neck downwards. The L Track system provides support for your neck, your back and your lower body down to your buttocks.
Zero gravity is another common feature we see in massage chairs in this price range.  The feature ensures an even spread of your body weight across the whole chair. This model has 3 zero gravity positions.
The Kahuna LM-7000 uses a smart design technology which will save you space. With a massage chair of this kind it is not unusual to require a gap of around 15 inches to the wall so that there is room for expansion for different zero gravity positions. With this chair you only need around 4 to 6 inches.
When you sit in the LM-7000 you can have a body scan using the onboard technology which determines the optimum massage for your body type.
As far as sole of feet are concerned, they're taken care of via dual foot rollers. You have the comfort of inflatable airbags and a kneading massage style for rest of the feet and calves using the airbags.
No top quality massage chair would be complete without a heat therapy feature and the Kahuna massage chair provides heat therapy for calf muscles as well as back to improve overall circulation.

Other great features include:
Arm massage using air technology
36 airbag massagers for your entire body
Adjustments for massage pressure
5 techniques for manual massage
6 automatic massage programs
---
6. Forever Rest FR-5K Premium Massage Chair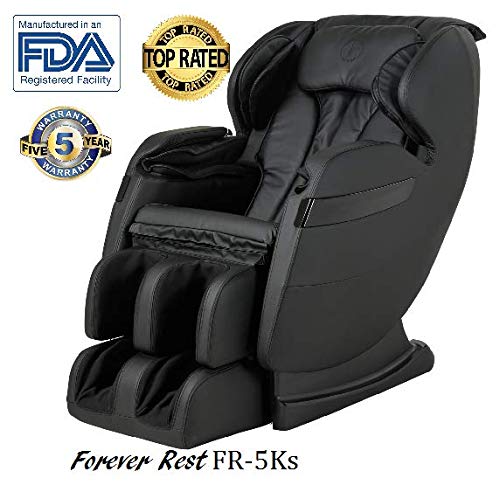 Who Is It for?
If you are looking for a massage chair that will get you as close as possible to a professional one then the Forever Rest FR-5K Premium is for you. There are a lot of fantastic features available with this chair all at a very reasonable price.
Like all high quality massage chairs there is a zero gravity function which places you in the very best position for a deep and relaxing massage which is quite effective.
This massage chair is fairly large and will accommodate people up to around 6 feet tall. You have a choice of 7 manual massage functions or 4 automatic functions. Other features include stretch mode and rollers for foot massage.
Pros 

Cons

Very realistic massage effect that actually feels like hands
Six levels of adjustment for feet and legs
Infrared lights provide relaxing heating function
Multiple massage functions to suit your requirements
Fully adjustable arm rests for added convenience
A lot of massage chair for the price

Massage chair is heavy and bulky making it difficult to move around
Delay in the massage chair turning off completely
Would be better with 4 rollers for your back but only has 2

All you need to know
The Forever Rest FR-5K has an L Track system which is both powerful and intelligent. This helps to provide a really deep and relaxing massage. It also has a good zero gravity feature that will enable you to position yourself perfectly for an effective massage.
One of the best features of this massage chair is the 7 different massage techniques that are available in the manual mode. You can choose from kneading, Shiatsu, seat vibration, knocking, rolling, tapping and a combination of tapping and knocking, which is one of the most popular options with people that have purchased the chair.
There are also 4 automatic massage modes which you can activate with remote control. You can choose between relaxation mode, swing mode, stretch mode or recovery mode. All of these modes provide a very effective massage.
The stretch mode option provides a stretch massage similar to yoga. This will squeeze your legs and feet and then pull them down to the floor and at the same time the backrest will pull back your into the recline position. The overall "pull area" of this chair is larger than normal.
The rolling foot massage provided by the Forever Rest FR-5K Premium massage chair is great for relaxing feet and calves. You will receive an acupressure massage for both your calves and feet as well as a rolling foot massage. If you are quite tall then the footrest will extend another 8 inches or so.
This massage chair also has an infrared light system to further heat up and relax your muscles.

---
7. 3D Robotic SL-Track Real Relax Massage Chair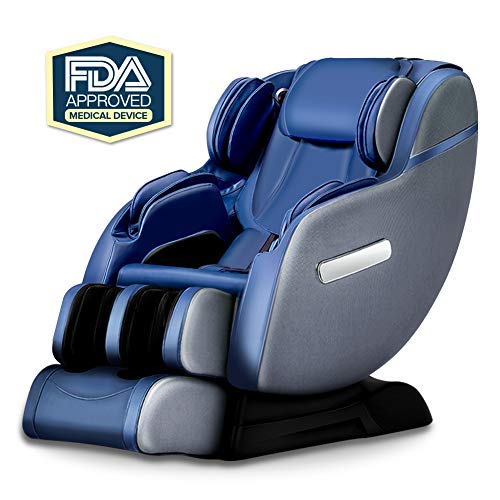 Who is it for
3D Robotic SL-Track Real Relax Massage Chair is a surprisingly good chair with plenty of advanced options for a massage chair in this price range. It's best suited for people shorter than 6'1″ who are looking to get one of the best massage chair in it's price range on the market. If you want to take a bit of risk with an offbrand massage chair, this one will probably fit the bill in every sense.
Pros 

Cons

Tons of advanced features for a very affordable massage chair
Advanced L-Track that extrends lal the way to hamstrings
Space saving technology (you need only 2″ from back of the wall)
Whole body heating function

Not suitable for people taller than 6'1″, heavier than 400 lb or have feet bigger than 12″
Needs repeated body scans every time the chair is turned off and back on, as there is no memory feature
Key features
Six types of massage to choose from
Zero-gravity
In-built bluetooth connection and speakers
Body scan function

All you need to know
3D Robotic SL-Track Real Relax Massage Chair features a variety of functions that should satisfy most people's needs. This chair offers a full-body massage all the way from head, shoulder down to hips, legs and foot with combination of airbags, L-track and rollers. It features 6 pre-programmed massage styles:
Kneading for back and legs
Deep tissue massage
Light patting for whole body
Rolling massage
Walking massage
---
Guide: What You Need to Know When Buying Massage Chairs
This guide will help you understand massage chairs, what they offer, how they differ from one another, and help you understand what features are important for your specific needs.
Should You Even Consider Buying a Massage Chair?
If you're pondering buying a massage chair, you're aware that's a big decision. There are numerous things to take into consideration. It's tricky choosing a chair that will provide the best massage for you, while making it worth your money. Although massage chairs will never truly replace the human touch, getting a massage every day (even few times a day) in the comfort of your own home does sound compelling. It may sound like a lot of money to give at once, but you should really look at it as an investment.
Cost Effectiveness: How Much Does a Massage Chair Cost vs Average Massage Cost
First and foremost, you should know how much is a massage chair and is it worth the money you'll invest in it. Basic massage chair prices can start as low as 500$, although these massage chairs usually provide only back massages with low massage intensity. If you're set on buying a massage chair you should consider setting aside more money for a quality one that will last and serve you well for years to come.
If you check massage chair stores near you, you'll see that decent massage chairs with different features can be found at the price of 1000$, while the better, quality ones can be found for 2000$ and higher. Nowadays, there are many companies that sell their products through the internet directly to their customers, without the "middle man" – which significantly decreases their prices. Such are companies like RELAXONCHAIR and Real Relax. These companies make quality chairs that are affordable, making them the best value for money.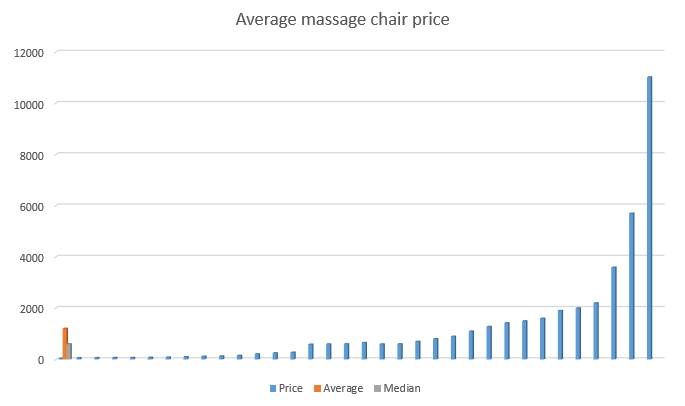 Another thing that's important to look into is how much does a massage chair cost after you've bought it. You'll want to look into a company that will give you a good warranty and has great customer service, so you won't end up with additional costs that may come up in case something breaks. Also, you'll want to browse for models that are energy efficient. Luckily, and this may surprise you – most massage chairs use less power than a refrigerator does, so they can't be held responsible if you get an electric bill that makes your head spin at the end of the month.
So, with all things considered we can conclude that a good massage chair can cost up to 2000$ max, with all expenses covered. Average massage can cost up to 70$ an hour in a salon, or up to 150$/hr if you want to be massaged in the convenience of your own home. That's without the 15% tip. So, if you're going to an affordable massage salon once a week, the costs can pile up to a dizzying ~4000$ per year – spent only on massages. Yes, the massage chair isn't as good as a massage from a massage therapist, but if it helps you halve the need to go to the salon, it already pays off.
Durability
So, now that we've established that massage chairs are an investment, you should know how long will they last. Usually, lower-end massage chairs can last for up to 2-3 years of normal usage, while the high-end, more expensive chairs can last up to 10 years. So, apart from being a worthwhile investment, it's usually a long-term investment that will certainly pay off.
Customization
Most home massage chairs can be customized, providing the best massage just for you. While most of them have a feature where you can manually choose and memorize just the right program for you, some offer cushion adjustment for your neck and shoulders or for your calves, if you're a taller-than-the-average person.
Some companies go further than that and offer cushion customization, adding cup holders to your chair or other features that will ensure the best massaging experience for you.
Body Scanning (body scan technology)
Although additional customization can be great for you, it can take a toll on your wallet. Fortunately, most of the newer massage chairs come with the body scanning technology. Specific sensors in the chair detect your body shape, so the chair can naturally adjust to it and tailor the perfect massage for you, thus eliminating the need for customized cushions that will fit you perfectly. This can significantly shorten the time you'd spend on trying to figure out what's just the right position and program for you, giving you more time to enjoy the massage.
---
Do Massage Chairs Work?
The big question. While we're aware that massage chairs aren't really able to replace the touch of a massage therapist, but they do work. They are proven to be effective in reducing back and neck issues, swelling and other problems.
Apart from helping in coping with physical issues, massage chairs help people relax. Although they won't help you resolve your back issues, they will ease the pain and give you an hour (or more, if you wish) of deep relaxation, which itself is highly beneficial.
---
Are Massage Chairs Good for You and What are the Benefits of Electric Massage Chairs
Now that we've established that massage chairs do work, what are the benefits of massage chairs for you?
Firstly, and maybe the most important – you can get a massage anytime. If you get a sudden cramp in your leg, or a stiff neck – you don't need to call your massage therapist and wait for an appointment. You just sit in your chair. That's very useful, one might say.
Another thing, where is the best place to get a massage? Well, in the convenience of your home. Okay, maybe getting a massage on the beach by the ocean is better, but how often can you do that? By getting a massage chair, you don't have to worry about getting an appointment at the salon, or reaching the massage therapist you want. There are no limits on how long the massage will last or anyone interrupting it. You're on your own, relaxed with a cup of drink in your hand, enjoying a perfectly good massage while reading a book or watching the TV. Just imagine that scene, and you're already relaxed.
---
Common Types of Massage Chairs – What Do Modern Massage Chairs Look Like
Massage chairs came a long way from what they used to look like and what their functions were. From a simple stool and a metal frame attached to it, which used to look kind of intimidating, to a comfy chair with many different massage programs. Most chairs nowadays have a similar design – a frame supporting a system of gears, motors and rollers topped off with loads of comfy cushions.
Standard Massage Chairs
Standard massage chairs are on the cheaper side, which explains their lack of features. They usually provide the user with a standard back massage, that will help you with the most common knots people get in their backs. Programs they use are mainly made of simple vibrations and 2D rollers, that move up and down your spine.
Zero Gravity Massage Chairs
If you think this sounds a bit "out of this world"-ish, you're partly right. Zero gravity massage chairs elevate you in the position where the legs are slightly above the heart, thus lowering the pressure on the spine and making you feel weightless, like you're floating in space.
Is it Worth Dishing Out $$$ for a Zero Gravity Massage Chair?
Apart from the weightless feeling it gives you, the specific position zero gravity massage chair provides is a perfect position for a deeper, more intense massaging experience. Because your back is in full contact with the chair's backrest, the full force of the massage chair's routine is more effective than in standard massage chairs. Also, it decreases swelling and promotes better circulation. Although it may sound like a new-age gimcrack, there are numerous benefits zero gravity chairs provide. So, if in doubt – dishing out extra bucks for this feature in a chair is worth it.
Full Body Massage Chairs
Full Body Massage Chairs are the most common in the market at the moment. They give you the full body massaging experience, you can get only from a massage chair. While massaging your back and neck, it simultaneously massages your arms and legs. If you consider the fact that these can also be at home massage chairs, it's an ultimate relaxing experience you can get in the comfort of your own home.
Shiatsu Massage Chairs
Shiatsu massage is a practice that originated in Japan, and is based on traditional Chinese medicine. Its technique is based on pressuring certain points in body with fingers and palms, so it would heal certain conditions and imbalances in the body. It provides pain relief and relaxation to the person receiving the massage. Apart from back pain and posture issues, it's proven that Shiatsu massage also helps with other health conditions such as sinusitis and bronchitis.
Shiatsu massage chairs imitate the Shiatsu massage with a combination of rollers and airbags. While applying pressure to key points on the body it stimulates pain relief and energy flow to a user, giving them the rejuvenating feeling after the massage.
Reclining Massage Chairs
When purchasing a massage chair, you're aiming for the full comfort experience. So, if your budget allows you, why not assure that you'll be able to fully relax while using it? In a reclining massage chair you can have a great power nap while being massaged. Is there anything better than that? You can choose between manual and automatic reclining massage chairs, but when in Rome, we suggest opting for an automatic one for the full enjoyment.
Massage Chair Pads
If you're struggling with regular back pain, but can't afford a massage chair and regular massage appointments are too much of a hassle for you, massage chair pads might just be the solution. They won't provide you with the same massage intensity like massage chairs do, but can't certainly help with mild back pain. They are also convenient as a to-go solution, as you can use them on different chairs (e.g. at home and at work) and even on car seats, which can be really helpful during long car rides.
Massage Office Chairs – perfect for people who sit for long periods of time
A massage office chair can be a lifesaver for persons who sit a lot because of their work. Although office massage chair won't replace regular exercise and taking a walk every now and then during your office hours, it will help reduce the lower back pain which is a common problem for people who spend a big chunk of their day sitting.
Portable Massage Chairs
Professional massage chairs are easy to set up anywhere massage therapists need them. Usually you can see them in the malls, where anyone can sit and have a relaxing massage provided by a professional. They are set up in a way that gives the masseur good access to your painful spots, while assuring your back is in a relaxing position. Massage therapists that care about being mobile and providing their clients with great service wherever they need them, make use of portable massage chairs like these.
---
What are the best massage chair brands?
With many massage chair brands and models, it is really difficult to decide which is the best massage chair company out there. Everybody has different criteria what is the best for them. Maybe you want to choose a brand that will offer you a variety of features for a low price, or you're the kind of user that wants the absolute best massage there is, but don't need extra features such as heating options or additional cup holders.
The list below will provide you with information about a range of brands, each being the best for different features they offer.
Kahuna
Kahuna is a US chair massage manufacturer that is in business since 1997. Although it is manufactured in the US, most parts of the chair are made in China, and that's the reason why Kahuna chairs come at lower prices, despite its high-quality design. This brand is a great choice if you want the features all high-end brands have, without paying the high-end price for it. They are especially known for their great "Yoga Body Strech" program, which is one of the best you can find of that kind on the market.
Real Relax
This is one of the newer brands on the market that is becoming increasingly popular due to their low prices and high-quality chairs. As they were founded in 2014, the fact they are so popular is even more impressive. Even though they have only 5 different models available, everybody can find a chair that will fit their needs and their budget – and that is just about what their mission is: providing every user with a quality, yet affordable chair. This brand makes the best chairs for the reasonable prices they offer, ideal for people who want to buy a chair so they could just relax in it after a long day of work.
RELAXONCHAIR
Similar to Real Relax, RELAXONCHAIR is one of the newer, cheaper brands on the massage chair market. It is approved by the FDA as a medical device, which ensures quality construction and design. Don't let the lower prices fool you into thinking their chairs are low quality. The simple reason behind their lower prices is that they don't have any middle man distribution companies that would make a profit by selling them. RELAXONCHAIR sell their chairs directly to their users for affordable prices. Like Real Relax chairs, they do have some drawbacks, but are still good value for money chairs.
Inada
If you were thinking about what is the world's best massage chair brand – here's the answer. Inada is known as the first-class massage chair brands, always offering top-notch technology to their customers along with impeccable design and customer service. Originating from Japan, since 1962 they became and stayed a leader in the industry. They achieve that through continuous innovation and following (and starting) market trends. Being a world-class leader in the industry comes at a price. So if you're ready to spend a considerable amount of money on the perfect massage chair, such as the Dreamwave chair – you can't go wrong with Inada.
Osaki/Titan Brand
Although the name might indicate we're talking about another Japanese company, Osaki is actually a US brand originating from Texas. Osaki and Titan are part of the Titan World company, one of the leading massage chair distributors in the world. Apart from massage chairs, they manufacture a whole series of handheld massagers, massage beds and other products related to relaxation and sleep. All products are designed and manufactured in China. They provide good quality equipment and we can rank them as the good value for money brand, with many products to choose from.
Fujiiryoki Brand
Another company with a long tradition, Fujiiryoki was the first company to start the mass massage chair production since 1954. Since then, they have developed a wide range of products, some of which are now certified as medical devices. They master the market with their flagship models, opposed to the Inada brand. They have used all the experience they have accumulated through a 60-year long tradition into making the perfect massage chair. Cyber-Relax is often referred to as "the king of massage chairs" and the flagship model that leads the next generation of massage chairs.
HoMedics
HoMedics is a brand dedicated to creating a healthy and relaxing home environment, that will make your life simple. They're mostly recognized for their massaging line of products, although they have a whole line of in-home wellness products – such as air-filters, fitness monitors, sleep-aids and other. Great thing about HoMedics is that they offer a variety of massage chairs in a wide price range, starting from 700$ to 4000$, so you can choose a fair-quality chair that suits your budget.
Human Touch Brand
Human Touch brand is another premium brand that comes from the US. Most of the design and engineering is done in the US, but the chairs are manufactured in Taiwan. They are primarily known for their iJOY massage chair, which differs from other massage chairs with its impeccable and compact design. Because of this, they became widely popular with users that live in smaller apartments or condos. They're motivated to ease your life with top-notch products that will fit perfectly in your living space.
Brookstone
Brookstone is an American retailer company, that started off by offering mail-ordered hard-to-find tools to their users. They were founded in the 60s, and grew since then. They offer a wide range of products, mostly made to make your life more enjoyable, and that's where the massage chairs come in. They have a small line of massage chairs, designed in the US, but mainly manufactured in China. They are fairly good value for money, but fail to be seen as exceptional in any way.
Luraco
Luraco brand is known for being focused on designing their products predominantly for therapeutic users. Their iRobotics technology massage chairs can be used with voice commands to check your blood pressure and heart rate. They're known for designing the first medical massage chair in the world, which has won numerous prestigious prizes. Because of their specific design and use, they are on the pricey side. But, for users that need all the extra and unique features they offer, it is certainly worth their money.
---
Tips for Selecting a Massage Chair
As we discussed above, deciding to buy a massage chair is a big decision and a substantial investment. Before you come to do a decision, you should take several tips into consideration.
Main Features
When browsing for a massage chair you should firstly think about what features are the most important for you. Many massage chairs today offer a variety of features, some of which will add price to your chair, but you won't be using them later on. So, it's important to differentiate between what you need and what you want.
Some of the features you should consider are the reclining option – do you want a manual or an automatic one? What kind of controller do you want, should you opt for a char that has a memory function, so it can remember your preferred setting for a perfect massage. If you're a taller than average person, you might want to consider feet extenders.
All of this should be taken into account, as you don't want to be put into a situation where you're feeling uncomfortable in a chair you bought to relax in.
Type of Massages
The most important thing to look into, is the type of massages you want your chair to have. According to your needs, you should choose the best type of massage for you.
Most massage chairs offer several types of massages such as: Swedish massage, kneading, rolling, vibration, Shiatsu, deep tissue massage. All of these types depend on the technology that is used in the chair. We'll go over that soon.
Keep in mind that you can't compare regular Swedish massage at a massage salon and the Swedish massage that your chair offers. The principle is the same, but the execution is a bit different, which makes sense. If you're a fan of the Shiatsu massage, you should check what is a Shiatsu massage when it's done by a chair. Fortunately, you can just go to a massage chair shop near you, or a mall, and try some of them out, then go online and buy it for a much cheaper price.
Size and Design
This is an important point to take into account. Think in advance where do you wish to put your chair and how it will fit into your current living space.
Usually, when thinking of buying a chair, people imagine putting it in the living room. But, most massage chairs are bulky and rigid-looking. And if you buy a chair with a reclining or zero-gravity option, you have to keep in mind that you can't put it against the wall.
Some massage chair brands, such as Human Touch, gave serious thought about the design and look of their chairs. They offer the neutral look that can blend in with most of the other furniture in your room. But if you are about the aesthetics of your living room and can't find a chair that will fit in, consider putting it in your bedroom or study.
Durability and Customer Service
This doesn't need a lot of explanation – you don't want a massage chair that will break the moment your warranty expires and you want good customer service, so any problem you encounter can be solved quickly.
But, all of the massage chair companies say they offer great customer service, so how do you know if it's true or not? This can easily be checked through customer reviews. You'll want to know if they're easily reachable, do they cooperate with you easily, how do they handle the situation when something breaks – do they send someone to repair the chair or do you need to take it to a nearby servicing place?
Taking a chair to repair can be a real hassle, considering how bulky they can be. That's why you should look into a chair that can be disassembled when a part has broken. That way, you can send only a part that is broken to the retailer, instead of taking the entire chair.
Another thing to consider is spending a couple of bucks more to an extended warranty. It the company offers you extended warranty, that means they are confident in the quality of their chairs, meaning they will probably last longer.
---
How do Massage Chairs Work
Majority of massage chairs function using two basic technologies: airbags and rollers. They imitate the touch of massage therapists offering pain relief for your painful points. Airbags are a slightly newer technology that is predominantly used for massaging arms and legs.
1. Airbag
2. Rollers
Rollers in Massage Chairs – What Rollers Does the Chair Use and How Many Are There?
There are several different types of rollers you can find in a massage chair. Depending on the type of rollers they use, you'll get a different type of massage – will it be more intense, will it cover your entire back area, or just the lumbar area. Read on to learn how.
Dual Rollers and Quad Rollers
The difference between being massaged with a dual or a quad roller is in the intensity of a massage. So, if you're using a chair that has quad rollers, as most chairs have, you'll get a milder massage. Why is that?
Well, as its name says, the quad roller has four rollers: two main (top) rollers that put pressure into the back, and two tracking rollers that don't put as much pressure on the back. Top rollers will protrude deeper into the back, but the tracking rollers dig deeper on the curves of the spine. The massage arm, which operates the rollers, has all the force going through these four rollers.
Dual rollers don't have any tracking rollers, just the two main rollers. Why is this important? Well, in this case, the force of the massage arm isn't dispersed through four different rollers, but just through two rollers. Because of that dual rollers have the capacity to dig deeper into your back, making the massage more effective.
A One Tracked Mind – S track vs L track – 2D or 3D or 4D?
So, now that you know what dictates the intensity of a massage you should learn how the rollers move and how does that impact the type of massage you'll get.
Firstly, you should know that rollers move on a railing track, that can be found in the backrest of your chair. Depending on the type of the track, rollers can move up and down your back, or they can go further down your glutes and thighs.
The first kind is the S track. The "S" in its name actually indicates the shape of the track – it is shaped like the letter S. This is because our spine is of a similar shape. If the track was flat, the rollers wouldn't be able to access all the spots on our back that need to be massaged.
The L track is basically an S track, but just a little bit longer, so it can also massage your glutes and your thighs. While S tracks are usually around 30 inches long, L tracks can go up to ~40 inches.
2D, 3D or 4D massage chairs – what's the difference?
What determines the way massage rollers move? The first kind of massage rollers were the 2D massage rollers. They could move up and down, left and right. So, they can move in two dimensions, while staying flat on the plane. Most basic massage chairs have 2D rollers, which can give a decent massage.
Modern massage chairs, and most on the market now, use 3D rollers. They are different from 2D rollers, because of the third dimension they have – depth. In chairs that use 3D rollers you can adjust the depth of a massage from soft to deep. This helps to dictate a more personalized massage, that will soothe you better, get to the crucial points in your back, which would otherwise be inaccessible with 2D rollers.
Now, about the 4D rollers. Well, they won't send you in another dimension of time and space. It's a bit of a marketing trick – the "fourth dimension" in 4D rollers is controlling the speed of the rollers, which is a feature almost all models have. Don't fall for that, and keep in mind that 3D rollers will serve you just right.
Airbags
Airbags in massage chairs are usually used for parts of the body such as arms and legs. For the purposes of the massage they will inflate and deflate fast. This imitates different types of massages and relaxes your muscles to the max.
How Many Air Cells Does the Chair Have?
This really depends from chair to chair. More high-end chairs usually have more air cells as that improves the massage it gives. Some chairs even have several layers of air cells, which helps in controlling the pressure.
---
What is Heat Therapy in Relation to Massage Chairs?
Heat therapy, or thermotherapy as it is often referred to, is a feature that can usually be found in massage chairs. Heat therapy opens your blood vessels and promotes better blood circulation, helping nutrients and oxygen travel through your body offering relaxation and pain relief to the affected area. There are two types of heat therapy: moist heat and dry heat. Moist heat therapy involves using hot baths or steamed towels for piercing deep into the affected tissue offering pain relief and relaxation.
Dry heat therapy is the one we're interested in. Dry heat therapy involves using electric heating pads to warm up your sore back or muscles. Massage chairs have heating pads integrated into them. Heat therapy in massage chairs is useful in getting the most out of a massage. It helps better muscle relaxation, which helps to break those pesky knots in your back.
If you decide on buying a cheaper massage chair with a heating option, you should expect to find the heating system only in your lower back area. More expensive models offer the heating system on the entire back area and sometimes even neck area.
One thing you should look into if you want a massage chair with the heating system is for it to be adjustable. Some people are more sensitive to heat, some are less, so having an adjustable heating system can be a lifesaver. Also, if you're worried about your chair overheating, bear in mind that most of them have a kill switch, that will prevent it from happening.
---
Control –  What Programs Do You Get?
As we mentioned before, the vast majority of massage chairs is customizable. You get to choose the massage program you want, the position you want to be in, how fast should the rollers massage you and so much more.
Kneading, Rolling, Shiatsu, Tapping
These are some of the most standard programs there are. Depending on the mood you're in, you can choose between these programs, or you can memorize the best one for you, so you can have the same type of massage anytime you use your chair. Each of these programs is different and each has its purpose in a massage.
Kneading – this is a massage technique characterized by circular movements that involve compressing soft tissues against each other or against the underlying bone.
Rolling – there are to types of a rolling massage: skin rolling and muscle rolling. These two techniques are quite similar. The basic principle is lifting the skin (or a muscle) and rolling it between finger and thumbs of both hands, and this is the movement that is imitated by rollers in a massage chair.
Shiatsu – this is a massaging technique originating from Japan and based on the principles of Chinese medicine. It uses fingers and palms of both hands to apply pressure to certain points of the body, which are called "acupressure" points. It is believed that acupressure points are vital for the flow of the body energy called "chi". Most massage chairs now have the Shiatsu feature. Some users swear by them saying that they imitate the gestures made by massage therapist so well you can barely feel the difference.
Tapping – this is a light percussion movement, usually done on the area that is loose and relaxed. It's usually done on short periods of time, in between two sequences of a massage.
Power or Manual Recline
Most chairs can be reclined, which can bring extra comfort to anyone. Some companies maximized the comfort an offered the power recline which allows you to put your chair in a reclining position with a press on the button.
Massage Intensity
Massage intensity can be adjustable to anyone who sits in the chair. You can choose if you want the rollers to put more pressure on your back, or less, how fast do you want them to move and in which direction.
Mostly you can do that with a remote control attached to the chair and memorize it, so you don't have to hassle with that the next time you use it.
Noise Reduction Technology
With all those gears, motors, rollers, airbags inside them, massage chairs tend to be a bit loud, which can severely interrupt your relaxation time. Because of that, some companies started using noise reduction technology in chairs, so you can enjoy your massage to the max.
---
Technical Things to Consider Before Buying
Material
When buying a massage chair, you want to choose a material that is durable and won't wear out quickly. Also, you want a material that you'll enjoy sitting on, even during the summer.
Weight Capacity
Most massage chairs have weight capacity, which usually goes up to ~250 lbs, in rare cases up to ~300 lbs.
Extras
Think about some extras that are offered to you when buying a massage chair. Do you want additional cup holders, or do you want to listen to music while you're getting your massage. As we said, this is a long-term investment, so you want to make sure you will enjoy it to the fullest.
Warranty
Discuss the warranty with the retailer when you're buying the chair. If the warranty is longer, the manufacturer is probably confident in his product, so there are fewer chances it will break.
Cost & Shipping Options
When buying a massage chair you should check the shipping options, the last thing you'd like is for the shipping bill to be almost as expensive as the chair itself. Luckily with online shopping, you can find great shipping deals, sometimes even for free.
Your Budget
The last, but not the least, you should carefully plan your budget for the chair. Think about all the features you need and want in a chair, and which models have them. There are good quality chairs with lots of different features, that can be both for a reasonable price.
---
Massage Chairs FAQ
Q: How Important are These Pre-Programmed Settings?
They are important only for your comfort. It makes it easier for you to choose the program you like the best, but you can also do the adjustments yourself.
Q: Are Customizable Adjustment Settings Really That Essential?
Again, it depends on how much comfort do you want to have in your chair. If you're a hobbyist and want to use the chair just for relaxation, maybe they're not as essential for you. But, if you want to get the chair to help you with a specific back problem, we advise you to look into it, because everybody's different and it's always better to adjust the massage just for yourself.
Q: Do All These Chairs Come With Inbuilt Music Players and Speakers?
No, this is a special feature that isn't offered by everybody on the market.
Q: Does the Heating Option In These Chairs Provide All Over Heating For Every Part of Your Body?
Some of them do, but most of the chairs offer the heating system only in the lumbar region.
Q: Can I Use Massage Chairs While Pregnant?
Using massage chairs while pregnant can be a lifesaver, and it is actually recommended to use massage chairs as they can help with back pain during pregnancy. It is safe, because your baby is wrapped in many layers and fluids making it safe inside your belly, so a bit of vibration certainly won't do any harm.