Scalp and head massagers are among the most cost effective devices you can buy. This is true especially when considering that head massagers can serve multiple purposes:
They can help relax not just your head, but many of these can also massage multiple body parts.
Many people find that head massagers can soothe that nasty headache or migraine.
Some men use them to help stimulate hair growth.
As they are arguably cheap, they make for perfect gifts too.
No matter why you need a head and scalp massager, we've written this guide to help you choose the best model for you. The best model for you is not necessarily the most expensive one out there; the ideal choice for you might just as likely be the cheapest head massager there is!
We won't bore you with too much technical mumo-jumbo. There are plenty of pages out there offering this.
Instead, by reading through this guide will help you understand what modern scalp and head massagers offer, what are their price points, what do they differ on and what all of this means for your particular situation – by the end of the guide you'll have a clear idea what model best fits your purpose.
Best Head and Scalp Massagers – Editorial Picks.
---
- Best Electric Head and Scalp Massager -
Breo IPX7 Portable

---
- Best Electric Head Massager for Headaches and Stress Relief -
KESITIS Head Massager
---
- Best Portable Head Massager for ASMR, Relaxation and Hair Growth - A Great Gift! -
LATME Electric Scalp Massager
---
- Budget Vibrating Shampoo Scalp Massager and Shower Brush -
Queenwill H01B Hair Scalp Massager

---
How We Reviewed the Top X and What to Expect from this Guide.
We have presented the best head and scalp massagers that will fit your needs – from the more expensive ones to the cheapest models, from those needing batteries to 'manual' ones, from smaller, more portable head massagers to others slightly less portable (let's be honest, head massagers are tiny devices).
We've made a judgment call to highlight the best devices in different categories: from head massagers made to help you relax, to those that are ideal to massage your scalp with in order to deal with headaches, and finally to devices that will stimulate hair growth.
As always, we select the best available devices in all categories; we judge this based on multiple criteria, including how satisfied users of the device are and what kind of reputation the manufacturer has.
Comparing the best Scalp Massagers.
Check out our editorial selection of the best scalp and head massagers available on the market. We've separated them into multiple categories and let you know whom the devices are ideal for.
Some, like the Breo IPX7, is probably the best electric head massager that is both waterproof and portable. The LiBa metal head massager on the other hand is the cheapest one out of the bunch, but it lacks all the bells and whistles that most of the other models reviewed here offer.
Before buying, always consider what you actually need. It's easy to overspend, and it's easy to get seduced by the best models on the market. They are worth it, but you pay for it too. Even if you save only a couple dozen dollars on a device, it adds up over multiple purchases.
1. Editorial Pick – The Best Electric Head and Scalp Massager:

Breo IPX7 Portable


The Breo Scalp Massager is great for anyone who wants a top-of-the-line head massager tool that can be brought anywhere – from on vacation to in the bath.
Pros and Cons of the Breo IPX7 Portable Head Massager
Pros
Cons

Portable and waterproof
Cordless and rechargeable
Removable, washable silicon massage heads
Six different massage modes

More expensive than other massagers on this list
Intensity can only be adjusted by pressing the "On" button
No magnetic charging
All you need to know.
Breo the company is a 20 year old company focusing on creating the best portable hand held scalp head massagers on the market. Working with both modern technology and elements of traditional massage and Chinese medicine, Breo's goal is to create premium massagers that allow you to relax anywhere. They succeed!
The Breo IPX7 is their top water-proof model, designed to be usable in the bath or on the go. With a stylish charging base and sleek design, it's almost as much an art piece as it is a tool of relaxation. There's no need here to hide it in a drawer – leave it out on the counter as decoration.
With universally strong reviews, this head massager is known for having great performance. The ergonomic design allows for easy use and the different massage modes make it tempting to use multiple times a day.
Key Features
Comes with charging base, cord, and manual
96 massage nodes on four removable, washable heads
Portable
Rechargable – holds charge for 3-7 days of normal use
Two speed modes, three intensities
Durable and well made
Breo IPX7 Tech Specs and Accessories
On one charge, the Breo can last up to seven days of regular use, depending on the mode used. The bamboo charging base that allows for this efficiently charges the lithium battery, but unfortunately this model does not have magnetic charging abilities. The charging contacts in the massager and the base work very well, however, so as long as you have a permanent space somewhere for the base then you will be fine. The charging cable is also USB compatible, so you can conveniently charge your massager while on vacation.

---
2. Best Handheld Electric Head Massager for Headaches and Stress Relief – A Budget Friendly Migraine Massager:

KESITIS Electric Massager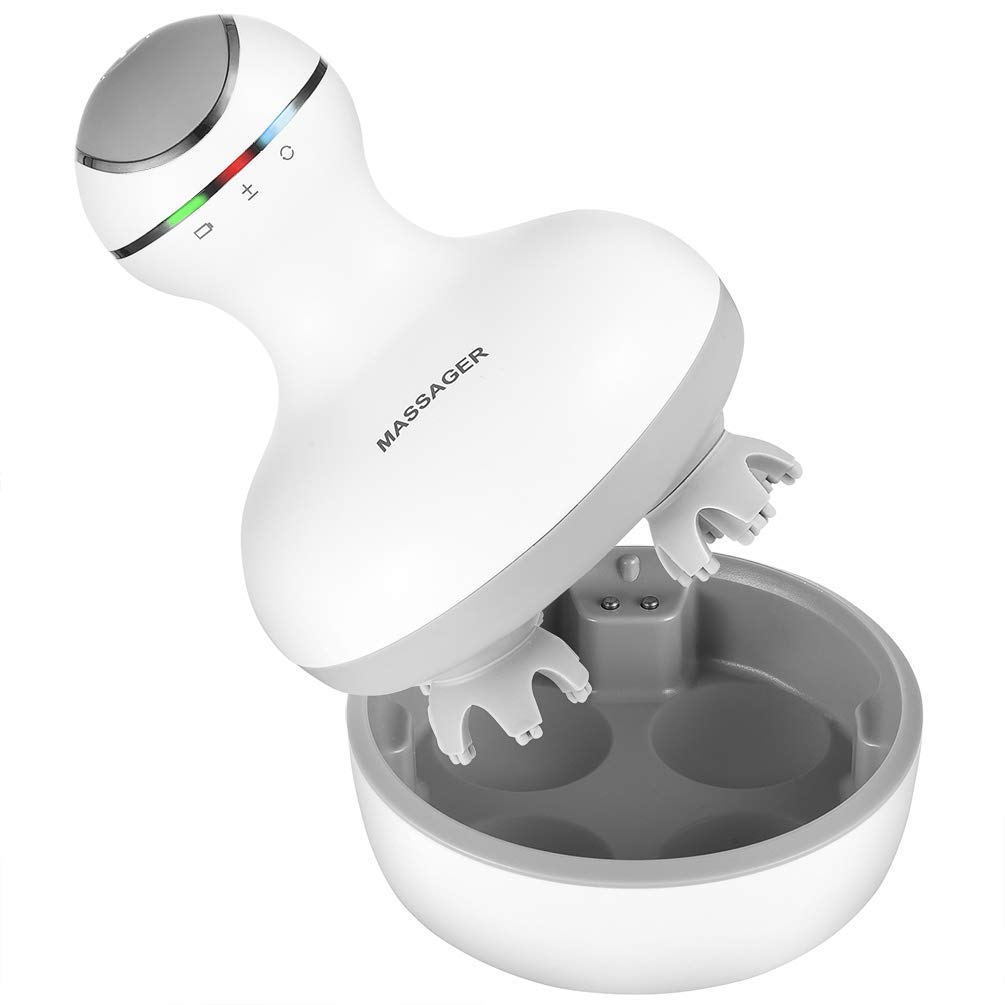 The KESITIS head massager machine is perfect for someone who wants to use their massager in the shower for migrine and stress relief, as well as for other means, but is still on a budget.
Pros and Cons
Pros
Cons

Four different massage modes
84 massage nodes on four heads
Rechargeable
12 month warranty

Heavier than other electric massagers on the list
Battery doesn't last as long as some other chargers
Massage heads not removable
All you need to know.
The KESITIS Massager is an great ultra scalp massager designed to avoid tangling hair while relaxing muscles and easing headaches. Made by KESITIS, which specializes in massagers, this relaxing head massager gets great reviews and can often be delivered with free next-day delivery on Amazon Prime.
Key Features
84 massage nodes, 4 massage heads
Massager weighs 14 oz
Charging indicator
Separate mode and speed buttons
Magnetic charging
USB charging cable and base
Tech Specs and Accessories
The KESITIS comes with the charging base, the massager, the charging cable and a manual. The base and massager connect magnetically, giving a little more security to the charging connection. The base is less obtrusive than the Breo's, and easier to put away if you don't want to leave it out on the counter. The handle design is a knob instead of a single smooth computer-mouse shape, which may be something you like. Overall it's a solid choice for someone who doesn't want to spend as much.

---
3. Best Portable and Waterproof Head Massager for ASMR, Relaxation and Hair Growth – It Also Makes The Best Gift!:

LATME Electric Scalp Massager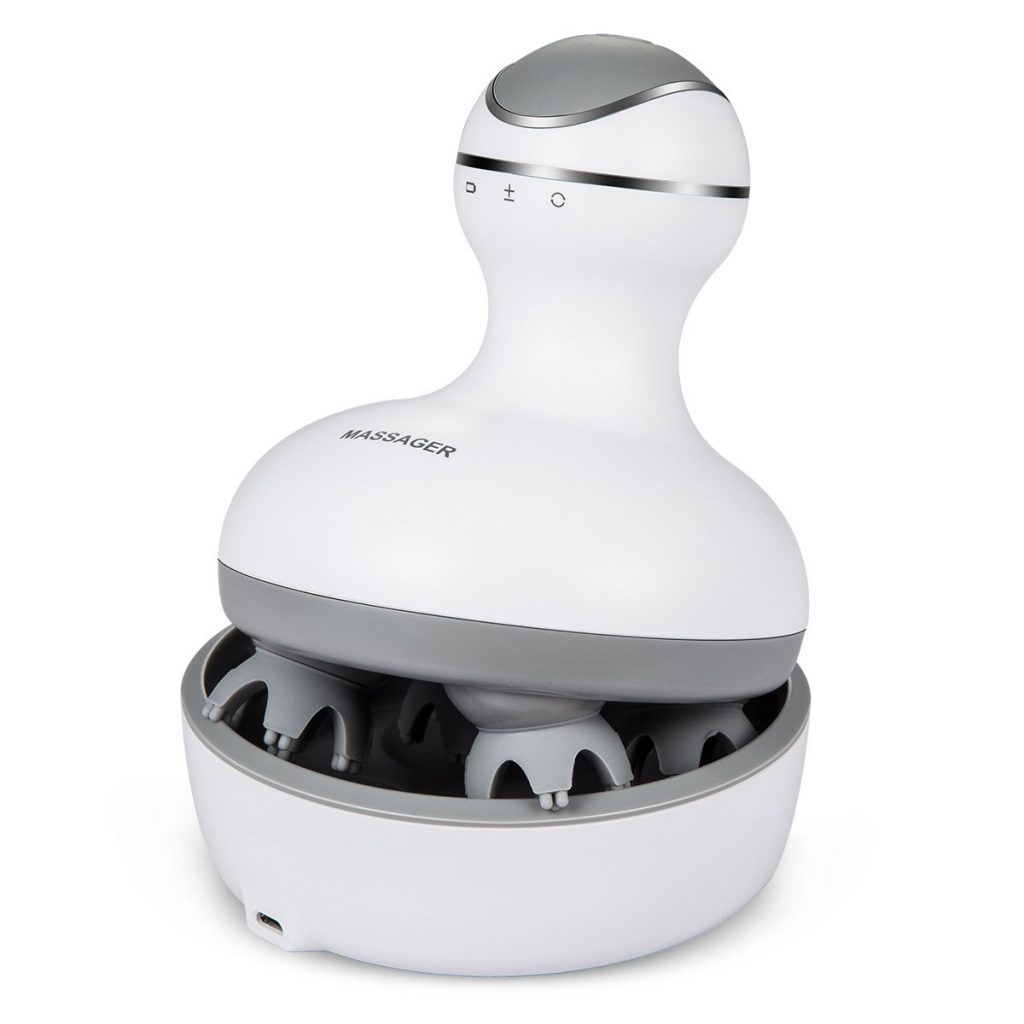 The LATME Electric scalp massager machine is ideal for anyone on a tighter budget that still wants a great waterproof head massager for vacation, an ideal scalp massager for ASMR, or a hair scalp massager to promote hair growth.
Pros and Cons
Pros
Cons

Detachable, washable massage heads
Easily portable for vacation use
Magnetic charging

Less powerful than the Breo
Heavier than other massagers
All you need to know.
LATME is portable, waterproof, and its sleek design will keep you looking stylish even as you wind down from the stresses of life. It is one of our favorite massagers for ASMR, but that's not all.
The LATME is also designed for use on other parts of the body. The same relaxing massage that feels great on your scalp can help you relax your shoulders, back, and limbs. Different massage modes help make this experience great!
It is suggested that LATME can help stimulate hair grow via circulatory-system, the LATME massager is great for helping you relax and for helping with your personal grooming. If you're interested in helping your hair grow a little quicker, or simply keeping your scalp a little cleaner, the LATME is a great option.
Key Features
84 massage nodes on 4 removable massage heads
IPX7-grade waterproof
Single control button with mode and charging indicator
Magnetic charging for lithium battery
Tech Specs and Accessories
The LATME comes with the base, charging cable, massager, and manual. The massage heads are made of food-grade silicon and designed to massage without getting tangled or caught in long hair. However, the battery does not last as long as that of the Breo.

---
4. Budget Option! A Vibrating Shampoo Scalp Massager and Shower Brush:

Queenwill H01B Hair Scalp Massager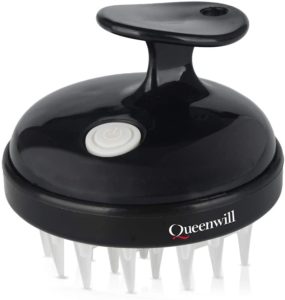 The Queenwill H01B Hair Scalp Massager is perfect for someone who wants it all for the price of a few coffees.
Pros and Cons
Pros
Cons

Two different massage modes
Vibrating electric action
Water resistant

Pads can feel too hard for some people
Needs batteries (not included in package)
All you need to know.
Queenwill H01B Hair Scalp Massager is a budget option for someone who wants their massager to be electric but doesn't mind that bristles are on the hard side. Two different massage modes are great for scalp massage and relaxation. 
Key Features
Vibrating action
Portable
Not rechargeable – comes with two AA batteries
Water resistant
Very light – weighs 4.1 ounces 
5-minute timer
Tech Specs and Accessories
Queenwill H01B Hair Scalp Massager comes with scalp massage and one screwdriver. It generates thousands of vibrates per minute to help you relax and stimulate your scalp. 

---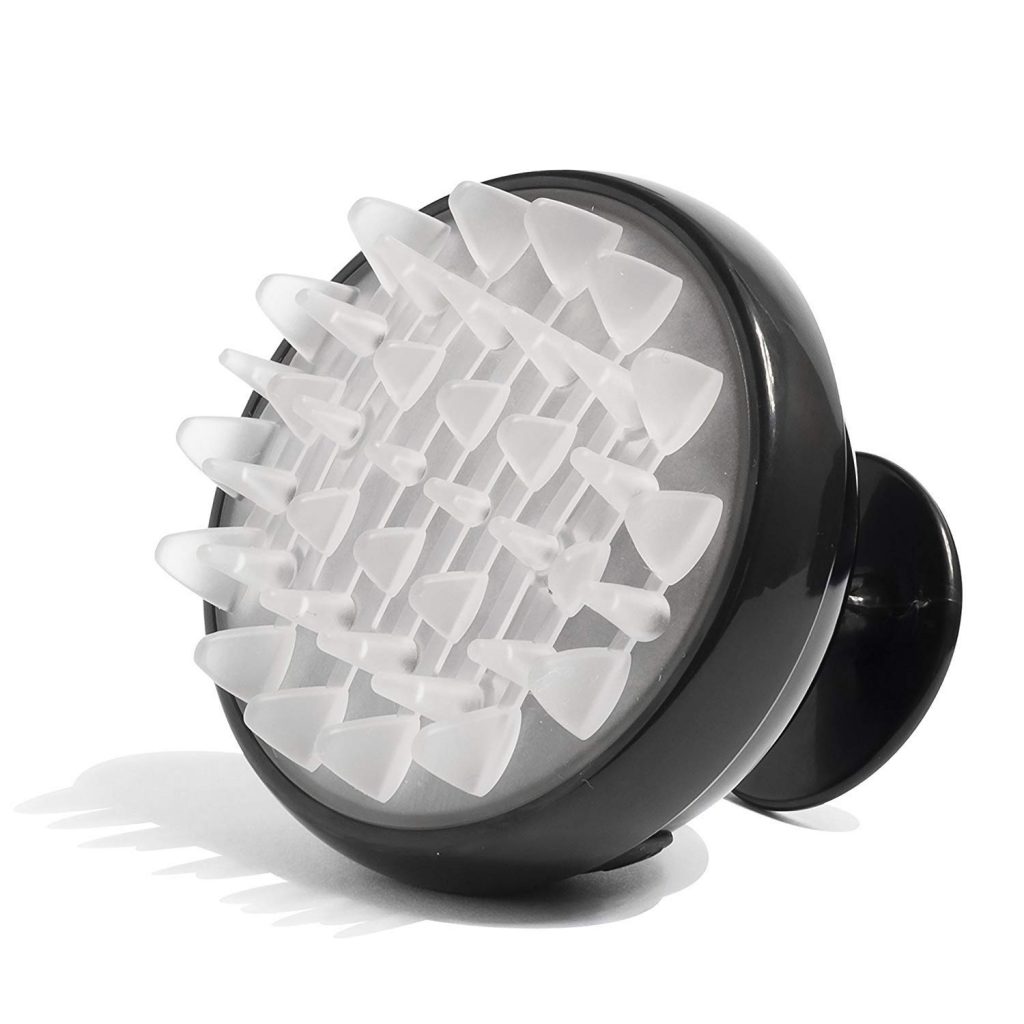 If you like the idea of something that costs less than three trips to Starbucks but the MARNUR seems too complicated, the Vitagoods Scalp Massager is perfect for you.
Pros and Cons
Pros
Cons

Water-resistant
Simple design
Lightest electric massager on this list

Simple design
Needs batteries
All you need to know.
The Vitagoods Scalp Massager is designed to do one thing very well for cheap. With two modes and only one brush head, it is a very simple head massager or head scratcher. However, if you like it, you're going to like it a lot – as it's both good for relaxing and for stimulating hair growth.
Key Features
5.5 x 8.8 x 3.5 inches; 5.6 ounces
Takes 1 AA battery, not included
Two vibrating modes
Thick massage heads for thick hair and deep penetration
Tech Specs and Accessories
Water resistant does not mean waterproof – the Vitagoods massager should not be used under water. The thick silicon massage head nubs are tall and wide, allowing for great penetration through hair.

---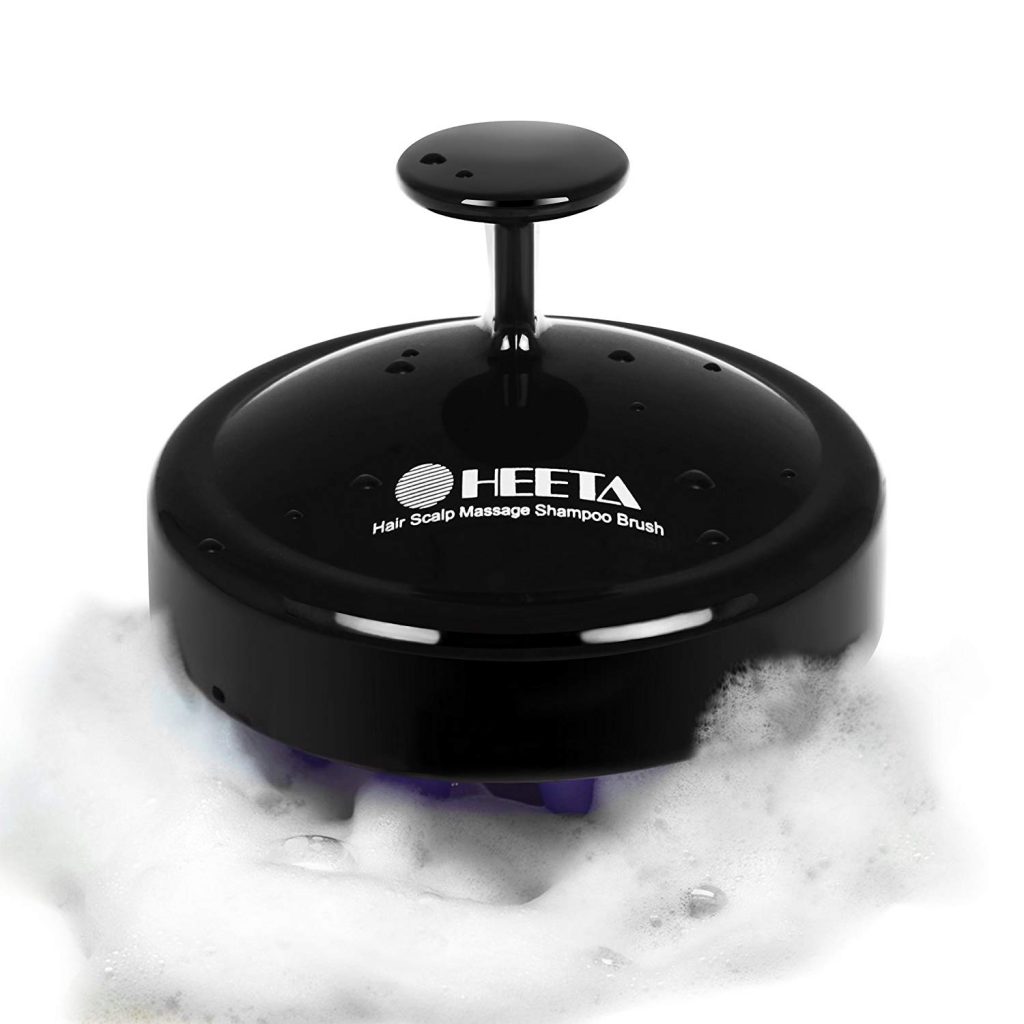 At under $10, the Heeta Scalp Shampoo Brush is a great scalp massage brush that looks like a stocking stuffer. It's perfect for anyone who needs a little more relaxation in their life.
Pros and Cons
Pros
Cons

Cheap
Weighs less than 2 ounces
Doesn't require a battery

Completely manual
Handle is awkward for some people
All you need to know.
The Heeta is fully manual, so you never need to worry about replacing a battery or recharging. The soft purple massage nubs are great for scrubbing or relaxing, depending on what you need on a given day.
Key Features
Silicon scalp massage head
1.8 ounces
3.2 x 3.2 x 2.8 inches
Entirely manual
Tech Specs and Accessories
The Heeta is fully manual and a single piece. The massage head is silicon, while the handle is molded plastic.

---
7. Cheap Rejuvenating Hair Growth Octopus Scalp Massager:

Tezam Head Massager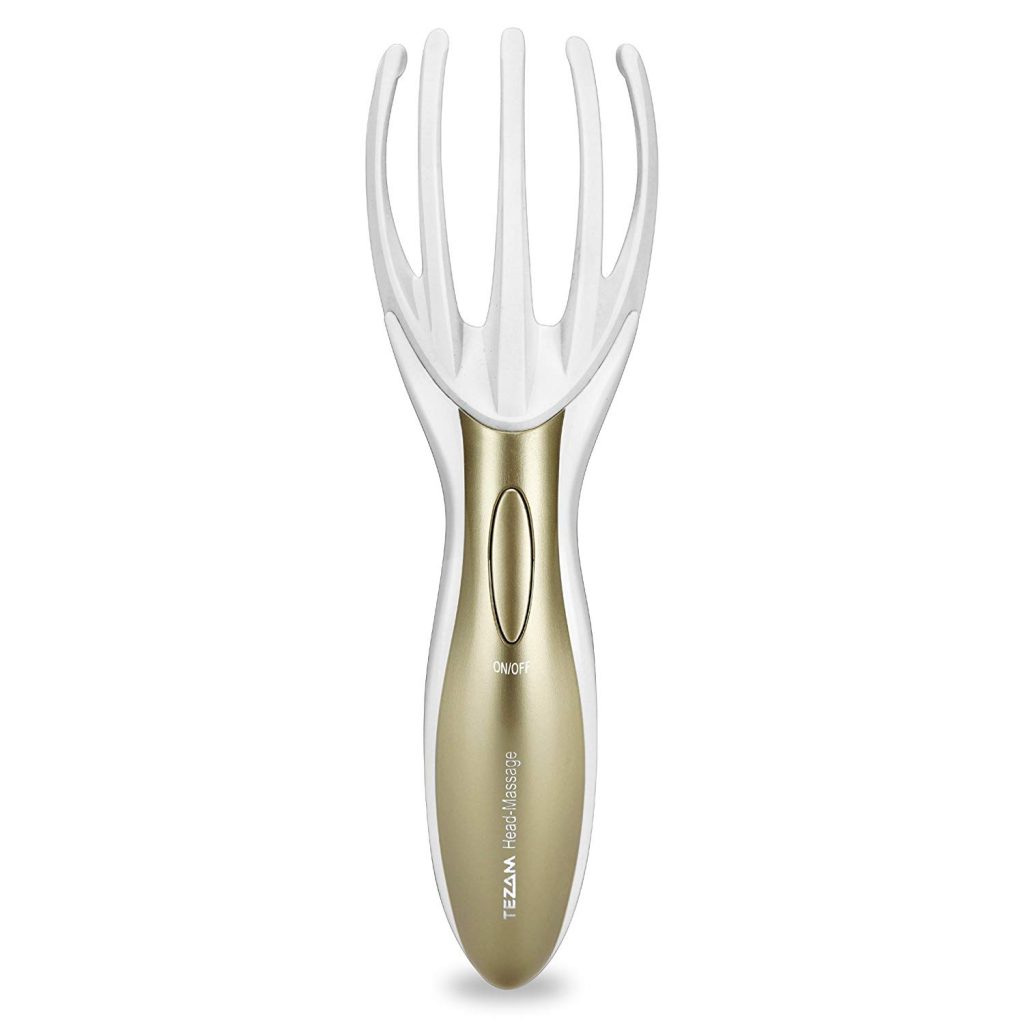 If you're looking for something to replicate getting a personal hair scalp massage from someone else, the Tezam is the massager for you.
Pros and Cons
Pros
Cons

Electric vibrating massager
Unique 5 point design replicates fingers
Easy on the budget

Only one speed
Outside of vibration the massager is manual
Not water resistant
All you need to know.
The Tezam is great for replicating a real scalp massage. The five massage heads are designed to imitate fingers, and the vibration intensifies the massage nicely. The massage it gives receives great reviews, but some people find the hand-imitation design off-putting.
Key Features
2.79′ x 8.34 x 1.46 inches
1.2 ounces
Single massage mode
Ergonomic handle
Takes 2 AAA (not included)
Tech Specs and Accessories
The Tezam comes with the massager and a manual, but no battery.

---
8. Best Spider Wire Head Massager and the Cheapest Scalp Massager Available:

Head Hair Scratcher Massage by LiBa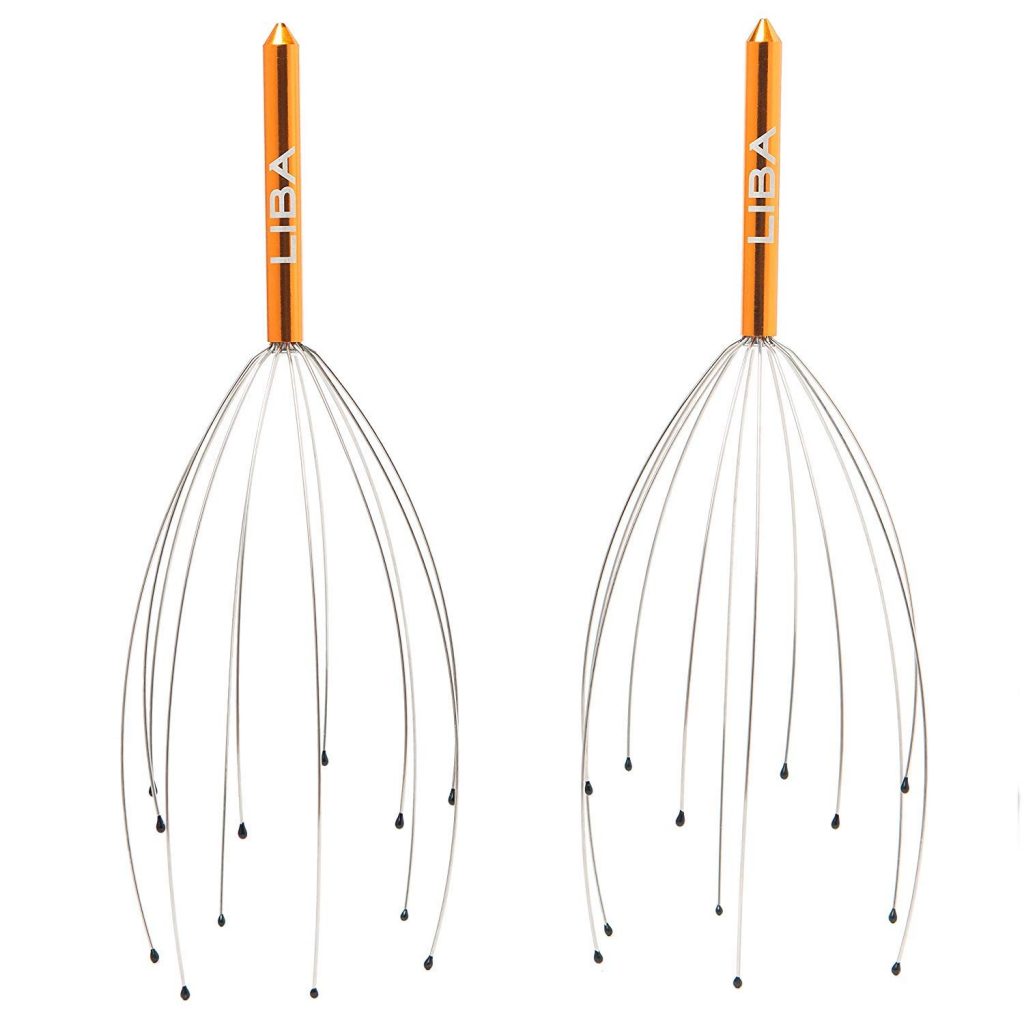 The LiBa spider wire scalp massager is a classic that some people even use to help trigger their ASMR response
Pros and Cons
Pros
Cons

Easy to use
Super portable
Also good for ASMR

Can tangle hair
Can get bent out of shape
All you need to know.
The LiBa spider wire scalp scratcher is known for its ability to both massage the scalp and help intensify ASMR tingles. It's a cheap and easy way to relax after a long day, but people with long hair sometimes report tangles if used too much.
Key Features
12 massage points with rubber tips
Lightweight aluminum design
Sold as a 2 pack
Completely manual
Tech Specs and Accessories
The LiBa comes as a two-pack, which helps make up for the fact that it is easy to bend one of the massage points out of place. However, at the price point, it's hard to find anything simpler, easier, or more satisfying to use.

---
Guide: What You Need to Know When Buying a Scalp and Head Massager.
The pleasure of a nice scalp massage is hard to replicate. There's just something about a head massage that helps you relax and relieves headaches like nothing else. However, it can be hard to find a head massager that works for you with so many options on the market. Here's an overview of what head massagers are and how they can help you.
Here is a YouTube video explaining how an electric head massager operates:
What Is A Head Massager? Why All The Hype?
A head massager is a tool designed to gently massage the muscles of your scalp. They can do this through pressure, vibration, or a combination of the two. Most are handheld head massagers, and many have rubber or silicon massage heads, making it an effectively a rubber scalp massager. After that, however, they diversify into a wide range of products.
Head massagers are also frequently touted to help thicken hair or prevent hair loss. This appeals to a variety of people, and different massagers can be designed to help with hair in different ways.
Finally, head massagers are popular right now not just because they are effective, but also because they can trigger ASMR responses. If you've ever gotten tingles while getting a haircut or when someone whispers in your ear, that's ASMR. A good head massager can amplify those tingles or cause them on its own. With the current ASMR craze, there are always more head massagers being put on the market, so you're sure to find one that appeals to you.
Do Head Massagers Work? + How effective are the head massagers according to science?
Head massagers work by vibrating or putting pressure on your scalp. This helps relax muscles that have grown tight by either in a sense "shaking them loose" or pushing them into an untensed state. In terms of muscle relaxation, scalp massagers work in a straightforward manner.
When it comes to hair thickening, growth, and loss prevention, scalp massage has a couple studies that back up the claims:
An article by the Pacific College of Oriental Medicine states that head massage can help strengthen the roots of your hair
A study published in the Open Access Journal of Plastic Surgery found that head massage can change how the genes in your hair follicle cells are expressed, and results in thicker hair.
While more studies on both subjects should be done, early results are promising.
As for ASMR, the study of the phenomenon is in its early stages, but there is a lot of anecdotal evidence from ASMR enthusiasts that point to head massagers intensifying or triggering ASMR tingles.
Types of head massagers and their differentiating features.
There are several different types of head massager, and there can be some overlap. Here are the four main kinds of scalp massager.
Spider massager
The spider massager is the cheapest and simplest of the scalp massagers. They are traditionally made of one or two dozen thin curved steel wires with small rubber tips, attached to an aluminum handle. To use them, you place the rubber tips against your scalp and push, so the wires flex and slide down around your head. It can be very relaxing and there are reports that this style of head massager in particular is good for triggering ASMR.
Plastic brush with rolling balls
The rolling-ball style of head massager is slightly more expensive than the spider style, because of the moving parts. This style of massager uses traditional shiatsu techniques to put pressure on a focused part of the head and relieve tension their. They are usually manual.
Shampoo & shower massagers
This style of massager has longer rubber nubs and may or may not be manual. The important aspect of it is that the massager is not damaged by water, and in fact it's designed to work with a wet head of hair. If you're looking for a real spa experience, a shower massager might be the thing for you.
Electric massagers
Finally, electric massagers have one to six massage heads with smalls points of contact on them. These massage heads may vibrate, rotate, or both. These tend to be more expensive, but they receive great reviews, and often get cited as helping trigger ASMR tingles.
Features To Look For When Buying A Head Massager.
There are lots of things to keep in mind when you're looking to buy a head massager. However, if you break it down and keep in mind why you want a head massager, you can find one that suits your purposes.
Massage Techniques.
Do you like deep tissue massager or something gentler? A spider massager is light and delicate, so it is not going to dig into your scalp. However, vibrating or roller ball massagers can take more force when you're using them, and can dig in more deeply. Similarly, an electric massager will generally vibrate as a primary mode of massage, which you may or may not like. Finally, roller balls use shiatsu techniques, if that interests you.
Heat Therapy.
Some electric massagers come with heat therapy options. These may or may not be something that you can turn off. If you like the idea, also remember that these massagers are likely to be more expensive than options without it.
Design.
There are dozens of configurations that may be used in a head massager. Some have ergonomic designs where you simply hold the body of the massager, while others have handles. If you have less flexibility, then you might want a scalp massager with a handle. This will help your maneuver the massager behind your head and angle it more easily.
Power Source.
Check whether your massager is manual or electric. If it's electric, if could be battery operated, rechargeable, or be attached to a cord. Keep in mind where you want to use your massager when you decide on what power source you like.
Massage Attachments.
Some massagers have removable massage heads. This allows you to replace or wash the heads easily, which may not be the case with other designs. If the massage heads aren't removable, then you're stuck with the texture and design of the massage heads as they are. Some massagers also have exfoliating or scrubbing heads that come with them, so those might be an interesting aspect to consider.
What Are Scalp Massager Benefits?
Different massagers can focus on different benefits, so look for features that match what you want.
If you're looking for something you can use while washing your hair, prioritize waterproofing. Intense muscle relaxation is best achieved through deep-tissue massage, which electric massagers do best. Stress and headache relief is best achieved through using whatever feels best to you!

Finally, if you're looking for the benefits of a cheapest head massager out there, choose the head massager spider.
Head Massager For Hair Growth.
If you're looking to improve your head of hair, you can begin with a gentle scalp massager and go from there. The goal is to stimulate blood vessels in your scalp, which will improve blood flow and help your hair follicles to do their best. A vibrating head massager is a great way to gently massage your scalp while still having the option to press harder for deep-tissue massage if that works better for muscle relaxation.
How To Use A Scalp and Head Massager.
Start by sitting somewhere comfortable. Let your hair down if it was up in a ponytail or bun, and brush it if it has tangles.
If your massager is electric, turn on any features you want to use, like vibration, rotation, or heat. Starting from the hairline above your forehead, press the massager gently against your scalp and start moving it in small circles. Push hard enough that it feels good, but don't push until it hurts – the goal is relaxation, not more pain!
Take care to massage your whole scalp, including the top, sides, and back of your head. Depending on the shape of your massager, you can also use the massager on the top of your neck and under your ears. Be gentle if anything hurts!
Frequently Asked Questions About Head Massagers – FAQ:
Q: How do I know that I need a head massage?
Do you have headaches, trouble sleeping, or stiffness in your neck? If you do, a head massager will probably help relieve your pain and stress.
Q: How often should I use head massage therapy? – What happens if you massage your scalp everyday? – Should I massage my scalp everyday?
You can use a scalp or head massager every day. If you are using massage as a hair loss prevention therapy, using the massager up to three times a day can help. There are no negative effects from using a head massager too much unless you press too hard or start to feel tender, so use it whenever you feel like you need to.
Q: How much pressure should I apply using a head massager?
You can press as hard or as gently as you like. Just don't push until it hurts.
Q: Does scalp massage really promote hair growth?
There are several small studies that show scalp massage promotes blood flow to the hair follicles, which can help hair growth.
Q: Will a scalp massaging brush pull out or damage my hair?
A good scalp massager will not pull out or damage hair. If a scalp massager is tangling your hair, try pushing less hard or turning off rotation features.
Q: Can I use massaging hair brushes with some hair care products?
Yes! Some massagers even have detachable massage nodes, for easy cleaning.
Q: Are scalp massagers really helpful? – Are scalp massages good? – Why do head massagers feel good?
Yes, scalp massages feel good and can help relax you. They feel good because they are releasing tension in the small muscles around your skull and promoting blood flow, which can relieve headaches, muscle aches, stress, and promote hair growth.
Q: What if I fall asleep with my head on a massager?
Most electric massagers are automatic head massagers as they have an automated off feature, where they will only run for a certain number of minutes. Depending on how you are positioned when you fall asleep, that portion of your scalp may feel tender due to a prolonged massage, or you may feel perfectly fine.
Q: Are there any other head and scalp massagers worth looking into?
Sure, there are plenty of head and scalp massagers out there. We've chosen the best ones in our opinion, but others worth checking include: Vanity Planet Groove Rejuvenating scalp massagers, Kikkerland head massagers, head and scalp massagers from Bed Bath and Beyond, Brookstone head and scalp massagers, Copper head massagers, The Tingler head massagers, ZEN head massagers, Whisk head massagers, Sally's scalp massagers, Pure Therapy head & eye massagers and Rainbow head massagers among others.
If you're not happy with our choices, I suggest that you take a look at the selection of head and scalp massagers here.
Q: Can I make my own head massager – A DIY head massager?
This is possible. BUT, the cheapest massagers presented in this guide that will be delivered to your door before you know it, will make you think that DIY scalp massager is just not worth the bother.
Q: Where can I buy a scalp massager?
Amazon is your friend here – either follow a link or search for a massager with the features you like – or check out various head massagers available on Amazon we've presented in this article.