You deserve a good R&R after a hard day. People of all races, gender and age commonly feel back, shoulder and neck tension, no matter if you've worked hard in a physically demanding job, or sat in your office chair for long hours. There is solution. And we're not talking about bugging your significant other to give you a massage each and every day.
The cost effective, time saving solution is to buy a massager for your self; in this specific case – a neck and shoulder massager.
The good news is that massagers of today do a great job of relieving neck and shoulder muscle soreness and tension. Even better, they won't break your bank. To top it all off, you don't need to go to a masseuse or bug your loved one – these machines are ready to do your bidding whenever you need them to! If you're often thinking about how good it would feel if you could relax that tension you feel around your shoulders and neck (hell, even if you don't know how good that would feel), why not get a neck, shoulders and back massager of your own?
Here are our best picks. These are the best massagers out today, no matter if you're looking for a high end massager, or a portable massager you can take everywhere with you, or the best shiatsu massager, or a massager with great heating option, or maybe a budget massager that still does a good job.
Best Neck and Shoulder Massagers That Will Fit Any Budget.
---
- Editorial Pick – The Best Rated Neck and Shoulder Massager -
Resteck Massager for Neck and Back with Heat
---
- Best Budget Neck Massager -
VOYOR Neck Massager
---
- Best Shiatsu Neck and Shoulder Massager -
Invospa Shiatsu Back and Neck Massager

---
- Best Neck Massager with Heat -
Zyllion Shiatsu Back Neck Massager
---
How We Reviewed the Top Neck and Shoulder Massagers and What to Expect from this Guide
We chosen the devices that best represent the most often sough out neck and shoulder massager categories – like the best neck massager with heat, or the best budget neck massager.
Preference is given to higher quality neck and shoulder massagers (which don't necessarily have a higher price tag).
We've made the list of neck and shoulder massagers short for a reason. The reason is that we believe these are the best massagers in their categories, period.
---
Comparing the best Shoulder and Neck Massagers (our top picks from different categories)
As always, there is no one perfect product, but there might be a perfect product for your particular situation. Some people might want a neck and shoulder massager that they can take on long flights or trips, others want the most comfortable massager for their home, and yet others just want a budget massager that they will use occasionally to relieve neck and back pain.
We've got you all covered – but the point of the text above is to always keep in mind what you actually need, even though some of the neck massagers on this list have fancy 'bells and whistles' and look really good!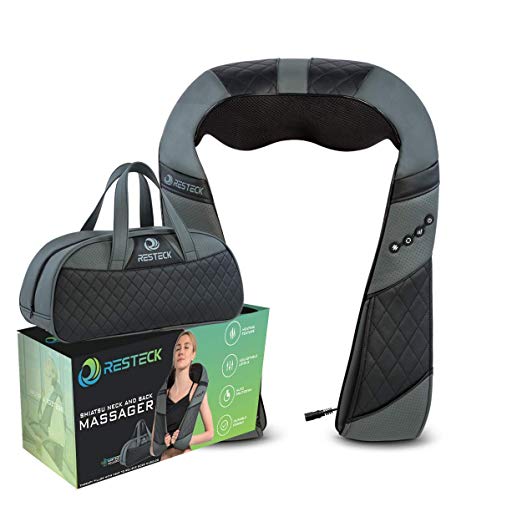 The Resteck Massager for Neck and Back is our top pick for people who want a great all-around massage device that can really do it all.
Pros and cons of the Resteck Massager for Neck and Back
Pros 
Cons

Heating element built into the massager
Bag, car adapter, and wall AC adapter included for easy traveling
Eight different massage nodes
Ergonomic design

Not wireless, which can make it awkward to use if you are too far from an outlet
Some people find the fabric to be a little rough
Not handheld
All you need to know
Resteck is an American-based company that focuses on making the best massagers possible. They offer lifetime warranties on all their products, and pride themselves on the quality of this massager in particular.
The Resteck Massager for Neck and Back is their premium model, with built-in heating capabilities, shiatsu massage balls, and eight different nodes of massage with a handy speed control and direction button. AS their best deep-tissue neck massager, it has multiple balls in each massage point to guarantee that those kinks are worked out. The Resteck has an auto-shutdown function, so you don't have to worry about falling asleep with it on. It also has internal heat regulation, to make sure you're always comfortable without every worrying about overheating.
The Resteck can be used on more than just your head and neck, as well – you can use the convenient arm massage loops at the end of the massager on your feet and legs, or wrap the whole thing around your back. Unlike some other massagers on the market, it's super sturdy and comes with a car adapter, so it can be used on the go, wherever you need a nice relaxing massage.
Key features
Comes in a Value Pack: Shiatsu Massager + Carry Bag + Car and Wall AC Adapters + User Manual
Deep tissue 3D kneading pillow
Speed control button
Portable & Convenient – Travel friendly!
Speed control button
Durable and well made
Resteck Massager Tech Specs & Accessories
The Resteck massager comes with a carry bag, a car adapter, and a wall AC adapter. The Resteck is not wireless, and therefore does not come with a battery pack. The adapters allow for use in most situations, but you may find it difficult to use while camping or away from external power sources. The massager also comes with a lifetime warranty, so if you use it hard, you can rest easy knowing it is covered.
The wall cable is quite long, so there are few limitations on it indoors, but the AC adapter is only a few feet. This leaves you able to use it in the car, but not necessarily in the back seat.

---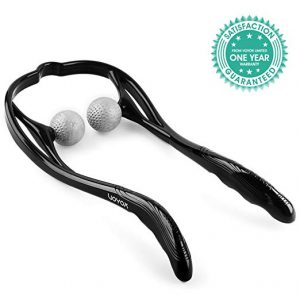 If you're looking for a neck massager to relieve some tension about money, then the VOYOR is the thing for you. At less than $15, they are both cost-effective and great at what they do.
Pros and cons of the VOYOR Neck Massager
Pros 
Cons

Cost effective
Long battery life
Ergonomic handles
Lightweight

No options for heat
Entirely manual
Slightly awkward shape for transport
All you need to know
VOYOR is a company that focuses on making simple, ergonomic devices for self-care. They make a variety of products, including massagers, skin care devices, and hygiene products, all of which get a minimum of four stars on Amazon.
The VOYOR Neck Massager is great because it's the absolute best option out there if you want a neck massager on a budget. It provides a great shiatsu massage with the textured silicon balls that are placed on either side of the flexible plastic handle. You can adjust exactly how much pressure you feel and where by squeezing and moving the massager, and make sure you get the most personalized massage possible.
Of course, since the massager is entirely manual, there are a few downsides. It doesn't have any extra features like heat or automatic massages, and it only has the two pressure points that work best for the neck. Since you have to give yourself the massage, some people say that it is not as effective at releasing tension as high-powered automatic massagers. However, for the price, you get a great device! The ability to adjust pressure, the shiatsu features, and the portability are all great perks of a neck massager that won't break the bank.
Key features
Double head shiatsu massage
Car and home use
Easy strength adjustment
Lightweight and portable
Ergonomic header
Entirely manual
VOYOR Neck Massager Tech Specs & Accessories
The VOYOR Neck Massager is 14 inches long from tip of the handles to the end. It has two silver silicone textured balls that act as the shiatsu massage points, and a black plastic ergonomic handle for easy pressure adjustment and massage control. It weighs less than half a pound, for easy transport. No batteries or power source is required, it is entirely manual.

---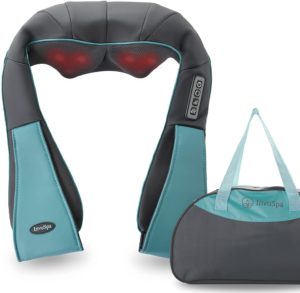 The Invospa Shiatsu Back and Neck Shiatsu Massager is for anyone who loves shiatsu massage, and wants to own the best rated shiatsu neck massager on the market. It replicates the feeling of a live shiatsu massage in the comfort of your own home with a minimum of fuss.
Pros and cons of the Naipo Shiatsu Massager
Pros 
Cons

Heat setting for extra relaxation
Flexible use – can be used on the whole body
U-Shaped design allows for better targeted massage
Fantastic cost-benefit ratio
It comes in a duffle bag

Not wireless
Massage pressure might not be strong enough for some
All you need to know
The Invospa Shiatsu Back and Neck Shiatsu Massager is absolutely the best shiatsu neck massager on the market, but it can be used anywhere on the body. The curved shape of the massager lends itself well to being wrapped around the torso, for either lower back tension or stomach cramps. It can also be wrapped around arms and legs, for specific muscle tension issues there. The massager comes with a duffle bag so you can easily take on anywhere with you, and still remain stylish.
The Invospa Shiatsu Back and Neck Shiatsu Massager is also great for being used in the car or at work. The car adapter lets you plug it in while on long car rides, so you can relax when in traffic or on a road trip. The long wall AC adapter of the Invospa means that you can easily wear it at a desk while reading, on the couch at home, or anywhere you want to relax. The heat function aids relaxation, by helping muscles tense and release when the shiatsu massage is being performed.
Surprisingly, this massager is not more expensive than others massagers on this list, while still having the highest customer satisfaction of any shiatsu neck massager on the market. It is not wireless, which can be inconvenient if you want to use the massager out on your back porch, but the cords are long enough that it is not a huge inconvenience. Some people say that the massage pressure in not strong enough, but most find it appropriate enough.
Key features
Multiple direction, speed and power modes, depending on your preference.
Ergonomic U-shape design
3D deep-kneading shiatsu massage nodes with heat that relieve sore muscles
Flexible straps so you can relieve soreness in harder to reach areas
Multipurpose use – relieve upper and lower back pain and relax the whole body
Use on the go – at home, in the car, or in the office
Invospa Shiatsu Back and Neck Shiatsu Massager Tech Specs & Accessories
The Invospa massager comes with a duffle bag, a wall AC adapter, and a car port adapter. The wall and car adapters are interchangeable, and let you take your Infospa massager with your wherever you go. The wall adapter is over 6 feet long, and the car adapter is 4 feet long, so you have some room to stretch out when wearing the massager.

---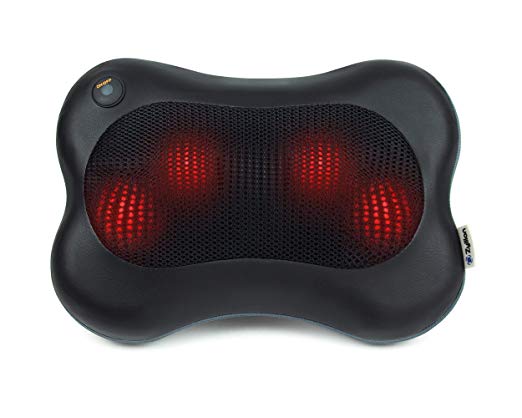 The Zyllion Shiatsu Back Neck Massager is for people who want an overall versatile massager that really kills it when it comes to heat. The Zyllion has a stellar heating function that will help relax muscles body-wide.
Pros and cons of the Zyllion Shiatsu Massager
Pros 
Cons

Great heat function
Comes with straps to secure to a chair as a permanent fixture
Very flexible: easy to use on any part of the body

Needs to be plugged in to work
Less portable than other massagers
Must be either strapped to a chair or held manually
All you need to know
The Zyllion is the only powered massager we are recommending that doesn't come with arm straps, and that's because its heating function is just so good. It is the best heated neck massager on the market today. This massager is designed to be either held in place, or secured to a chair for a hands-free experience.
If you want a massager that can just stay in one place, the Zyllion in the product for you. However, this makes it one of the least portable massagers on our list, so keep that in mind.
Key features
Has arguably the best heat function found on a back and neck massager
Needs to be plugged in
Deep-Kneading Shiatsu Massage Nodes
Adjustable straps so you can strap the massager to a chair
Relieve muscle tension not just on your neck and back, but all through the body
Use at Home, Office, or Car
Zyllion Shiatsu Back and Neck Massager Tech Specs & Accessories
The Zyllion is a mere 3.5 inches deep, with contouring to fit perfectly when attached to most chairs. comes with easy-to-use straps to secure the massager to a seat. It is made with soft textured leatherette, for a simple, sleek, easy to clean design. The massage nodes are behind a plush mesh fabric, to allow for easy maneuvering and breathability. It comes with a wall adapter and a DC car adapter, so it can be secured to a car seat or an office seat with equal ease.
Guide: What You Need to Know When Buying a Neck and Shoulder Massager
Neck and back tension is one of the most common results of stress, and as a result, most people today have it. Neck tension can also be caused by poor posture, long commutes, heavy backpacks and purses, or lack of sleep. With all of this conspiring against you, you may feel like you're stuck with a tense neck. That's not the case! Neck and shoulder massagers can make you feel good as new. Here's what to consider when buying your own massager.

---
What are the Benefits to Owning a Neck Massager and Why Would You Want One?
There are lots of benefits to getting your own neck and shoulder massager. These massagers are designed to release tension in the muscles of your neck, shoulders, and back by applying pressure to the targeted areas. They usually have several different "massage nodes," or points of contact, that roll in circles to emulate a live massage. Most come with handles, to help keep them in place or allow you to shift where pressure is being applied.
Neck tension can have many unfortunate side effects, on top of being just plain uncomfortable. Some people report that their headaches and even their migraines are caused by neck tension. Neck tension can also affect your sleep – relieving neck and shoulder tension frequently results in people sleeping better and longer. Neck massagers can also increase blood circulation, which may give you more energy, and they can help increase joint mobility by reducing inflammation. Really, it's a win all around.
---
Features to Look for When Buying a Neck and Shoulder Massager
What are the features to keep an eye on when you're on a market for a neck and shoulder massagers? Here are the most important ones to keep in mind:
What's the Difference? Massage Pillow Neck Massager vs Shoulder Massagers with Armstraps
When you're looking for a neck and shoulder massager, there are two primary types you will run into. The first is the pillow neck massager. This is a cushion that you drape around the neck and leave there to gently massage those muscles specifically.
On the other hand, you might see a neck massager belt with arm straps. This type of massager allows you to get a deeper massage in the areas you need it. You place your arms in the straps to counterbalance the massager, which help the massage nodes deliver more pressure than a pillow can provide.
Obviously, which one you'll go for is entirely up to you.
Massage Techniques – Shiatsu vs Kneading vs Vibrations
When looking for the best neck and shoulders massager reviews, check to see what type of massage technique is used. There are three primary motions that home massagers use to help relax your muscles: shiatsu, kneading, and vibrations.
Shiatsu is the process of using circular pressure motion to mimic another person giving you a massage, like a personal trained masseuse.
Kneading, on the other hand, involves straight-line motion, up and down or side to side.
Finally, vibration can be anywhere from a pleasant light hum to an intense buzz, in order to loosen your muscles.
All of them can be effective, but many people prefer shiatsu techniques for the neck and shoulders, due to how muscle knots form in those areas.
Does Your Massager Come With Heat Therapy
Heating helps relax your muscles by literally helping them expand. Being cold or tense causes muscle fibers to tighten, and heat undoes some of that effect. Some massagers have heat therapy options, where you can use the in-built heating option of the massager to further relax your muscles. Not all neck and shoulder massagers have this option, so you should consider whether you want it when shopping.
How Does Your Massager Generate Pressure
Different massagers produce pressure in different ways. The two primary methods of making pressure are by actively using your hands, and by passively using your bodyweight.
Massagers that use hand-generated pressure require you to place the massager somewhere and press on it in order to get the desired amount. This can be great for places that are easy to reach, such as your limbs.
Massagers that use your bodyweight to produce pressure usually have things like arm straps, where you can place your arms and relax them. The weight of your arms themselves will pull the massager against your neck and shoulders, and the pressure is produced through gravity instead of effort. This method of pressure production is great for hard-to-reach spots, like your neck, shoulders, and back.
How Many Nodes Does Your Massager Have, and is This Important?
Keep an eye out for how many massage nodes your massager has. Each node is a point of contact, where the massager is applying pressure. The more nodes a massager has, the more places it's relaxing at once. You may appreciate having many all at once, or you may prefer to have a few focused nodes.
Does the Device Allow You to Set Your Own Intensity Levels?
Most neck and shoulder massagers have a selection of intensity levels, but this selection can vary from two to eight. The more levels of intensity a massager has, the more likely there is to be a level that you like on any given day. These intensity levels can also involve speed and direction of rotation, so keep an eye out for features like reversing the direction or pulsing the speed if that interests you.
Why Do You Need a Massager?
A very important aspect of choosing a neck and shoulder massager is being clear on what you want the massager to help fix. Different massagers are good at different things.
Do you want your massager to be easily portable? Some are, though not all. If your massager isn't portable, it will be hard to take it with you and use in during an airplane ride, for example.
Is it supposed to help rehabilitate an injury, or simply fix general pain from tension? If you need something to fix a diagnosed medical problem, always consult with your doctor.
Do you want your massager to work in the car? Please note that they can be very distracting while driving.
Finally, consider where your pain is in your body. If it's below your shoulders at all, you should consider getting a back massaging cushion instead of a neck massager. You can also consider getting both.
Where is Your Pain Located?
Your pain is the reason for getting a neck and shoulder massager. Where is your paun the strongest? That is roughly where your massager should be working. Some massagers focus primarily on the neck, while others are much more flexible and can be placed wherever your pain is. Make sure when purchasing that your massager is going to focus on the places that you need it to work!
Is Your Massager Portable? Size, Weight and Power Source Considerations
Tension will follow you everywhere, and that's a good reason for your massager to follow you, too. Take the portability of your massager into account when you purchase it.
Weight can be good for applying extra pressure where you want it, but excess weight is going to make your massager hard to travel with.
Similarly, an external power source means that your massager is going to be great at digging into tough knots, but you will have to be near an outlet in order to use it.
Finally, the general size of your massager is the most obvious obstacle to portability – if it gets too large, it's going to be difficult to bring with you anywhere.
User Friendliness of the Device – Does it Have Hand Pockets?
Take into consideration how easy your massager is to use. Many massagers have controls for you to turn it on and off, initiate heat, adjust the intensity of the massage, and more. Sometimes those controls are easy to use, and sometimes they aren't. Check out how they work before you buy.
You should also look for the presence of hand pockets in your massager. These pockets make it simple to get pressure right where you want it, and allow your shoulder to relax completely because you aren't trying to adjust manually the location of the massage. Simply let gravity do the work and your massage will feel great.
Aesthetics and Style of Your Massager
Some people don't care about how the device looks.
For others, their personal aesthetic is just as important as any other aspect of the massager! A neck massager can be effective, but what's the point of something portable if it's too ugly to use out of the house? There are plenty of personal neck and shoulder massagers on the market. You can choose one that will work great that also appeals to your personal style.
---
Quick Tips For Using a Neck Massager
Consider using a towel to lower intensity.
A deep-tissue massage can feel pretty intense. If your massager is already on its lowest intensity setting and it still feels like too much, you can place a towel between you and the massage nodes to lower it further. Fold it in half if you need to! Remember, massages are supposed to feel good.
Always use heat moderately.
You don't want to burn yourself. Most massagers have heat limiters, so they can't get too hot, but there's always a chance that something might fail. If you feel uncomfortably warm, then turn off the heat. Also, using a heated massage too often can on occasion result in bruises, so consider taking some time off from the heat every other massage.
Never drive while using a massager.
Don't drive while distracted! Car adapters for neck massagers are for use while parked only.
Questions that Frequently Come Up Regarding Neck and Shoulder Massagers
These questions can be heard time and time again from people in specific situations looking into neck massagers. If your question is not listed here, feel free to contact us!
Can I use a neck massager while pregnant?
Yes, you can! In fact, using a neck massager while pregnant can help relieve a lot of the stress and muscle aches that come along with being pregnant.
Can I drive while using my neck & shoulder massager?
If It is always safest to avoid distractions while on the road, so we do not recommend you drive while using a massager.
How often can I use my massager?
You can use it as often as you want, but most have an auto-off feature that turns them off after 20 to 30 minutes. It is smart to take a break between massages to let your muscles rest and relax.
How much does a neck massager cost?
Neck massagers can cost as little as $12 and as much as, or over $100. That is why it is important to choose a massager that fits both your needs and your budget.
How much does a neck massager weigh?
Different massagers weigh different amounts, but on average they weigh two to six pounds.
What is "Shiatsu"?
Shiatsu comes from a Japanese term related to acupuncture, and refers to using pressure to relieve tension. Modern shiatsu is the practice of using circular pressure motion to mimic a live massage, and frequently uses balls in one form or another.
How loud is a neck massager?
Most massagers are quiet, no louder than a fan.
Can a neck massager be used on all parts of the body?
Mostly – Yes. Many neck massagers can be used on any part of the body. Shiatsu massagers in particular can be wrapped around the body wherever a good massage is needed, including the back, stomach, arms, and legs.